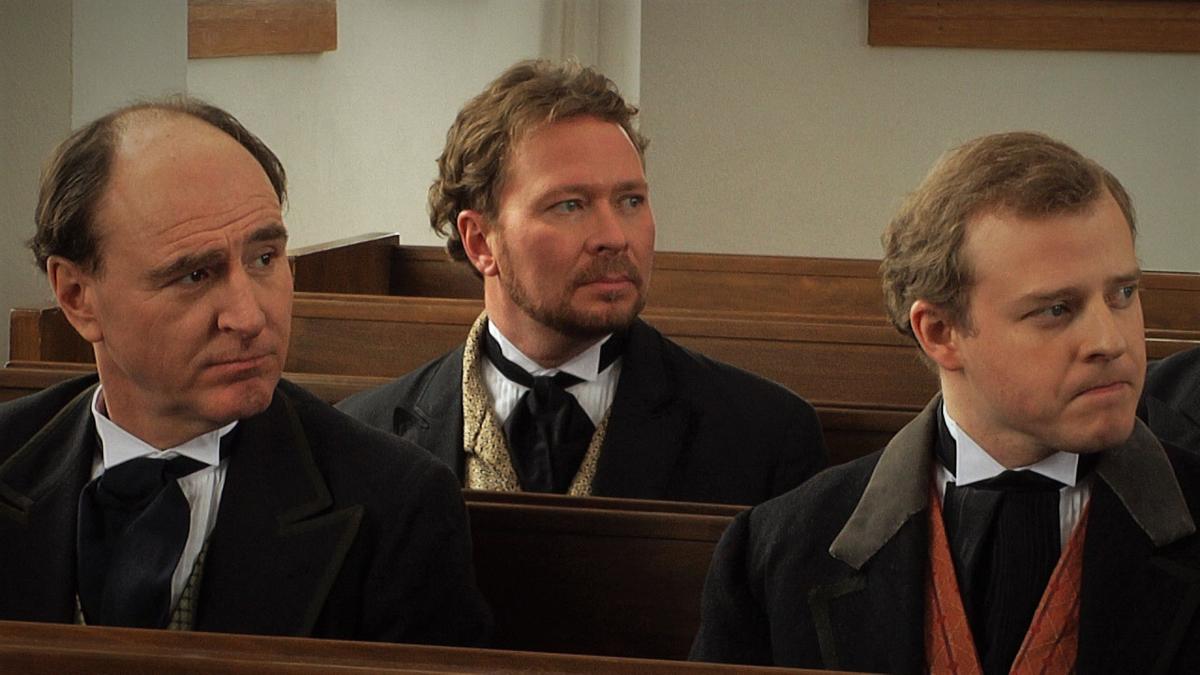 As a 1986 graduate of Oberlin College in Ohio, I've admired the fact that the private, liberal-arts school (founded in 1833) was one of the first to admit women and African-Americans. But I never knew its first president — Asa Mahan, a Congregational minister — was among the little-known "Lane rebels," who left Cincinnati's Lane Theological Seminary after the school sought to crush their call for slavery's abolition.
This fascinating, inspiring slice of influential U.S. history is told with characteristic grace, intelligence and emotional power by Moline-based Fourth Wall Films in its first narrative docudrama, "Sons & Daughters of Thunder." The stirring 85-minute film premiered last weekend at the Putnam Giant Screen Theater, attended by 432 people in two screenings, each followed by a talk with filmmakers Kelly and Tammy Rundle, and key cast members.
Seeing the beautiful finished product, and hearing from those involved, it clearly was a labor of love. It's been about a 10-year process, since the Rundles first heard about the 1970s play of the same name by Earlene Hawley and Curtis Heeter. It chronicles the beginning of the end of slavery in America with the first public debates on slavery, in 1834 — 29 years before President Lincoln issued his landmark Emancipation Proclamation, freeing the slaves.
The patiently paced film, which gathers in dramatic force as it unspools, stars real-life married couple Jessica Taylor as author Harriet Beecher, then 23 (whose father Lyman was Lane president), and Tom Taylor as abolitionist Theodore Weld, a founder of the seminary who attended as a student and led the anti-slavery call. Harriet met Lane professor Calvin Stowe in Cincinnati (here played by Dan Rairdin-Hale), whom she married in 1836, and went on to pen the anti-slavery novel "Uncle Tom's Cabin" in 1852.
Whether it's their natural chemistry, or the fact that they're exemplary actors, there's an obvious attraction between Harriet and Theodore in the film, as Jessica smiles admiringly at Tom in one scene and notes that she sleeps with some of Weld's papers under her pillow. In real life, Jessica Taylor was pregnant with their daughter, Avery (who just turned 5) during filming.
Principal photography for "Thunder" took place at several historic sites in the Quad-Cities and surrounding areas, including Karpeles Manuscript Library Museum, and Augustana College's House on the Hill in Rock Island, Jenny Lind Chapel in Andover and Dillon Home Museum in Sterling. They also shot at the Harriet Beecher Stowe House in Cincinnati, the only remaining building from the seminary grounds.
Rather than traditional documentaries, in which Fourth Wall has excelled in a prolific catalog, the screenplay by the husband-and-wife team and the tight close-ups of the real-life characters puts the viewer in the middle of these sweeping historic events, and brings them thrillingly to life. These are people who lived with passion and purpose.
Tom Taylor — a veteran of QC Theatre Workshop, along with his wife — makes you feel the genuine impulse of Weld (1803-1995) to achieve what many around him thought impossible — freedom for all people. His altruistic fire burns intensely, especially in a later scene when he flings newspaper ads into the meeting house, which offered rewards for capture of escaped slaves.
Jaylen Marks, who plays Lane's first and only black student (James Bradley) quietly and humanely recounts the horrors of life as a former slave.
The film boasts an all-star cast that shows the impressive depth and quality of Q-C actors, assembled by Kim Kurtenbach — who was executive producer and casting director, and also co-stars as Harriet's sister, Catharine. She favors colonization, which meant to emancipate slaves but for them to return to Africa.
As the wise, good-natured Lyman Beecher, Janos Horvath reflects the painful challenge of being in the middle of pro-slavery and abolitionist sentiment; Beecher is sympathetic to abolition, but on a much slower, deliberate scale. Other Quad-Citians in the cast include Tom Walljasper, Mike Kennedy, Don Denton, Mike Schulz, Tristan Tapscott, Justin Marxen, Pat Flaherty and Joe Maubach.
In addressing Americans' perennial struggle in how to deal with differences (whether in gender, race, creed, country of origin, sexual orientation and the like), issues raised in "Thunder" seem relevant to society today. One line from Weld is especially apt — "Fear is being used to control public sentiment."
Weld was among the 40-some students who left Lane for Oberlin and lectured for the American Anti-Slavery Society, and edited its publications. During the 1840s, Weld advised anti-slavery members of Congress.
In the film, Schulz as Asa Mahan — a Lane board member — is insulted when Kennedy as board chairman didn't consult him in shutting down public debates and seeking Weld's ouster. Mahan opposed denial of free expression and resigned, becoming Oberlin's first president in 1835 and insisting that it admit black students.
"Thunder" is bookended by Mark Winn delivering moving excerpts of a Frederick Douglass speech July 4, 1852 in Rochester, N.Y.
This Saturday, the film has its Cincinnati premiere, to be attended by the Taylors, Horvath, Kurtenbach and Marks. On March 30, there will be a free-will offering screening for the Jenny Lind Chapel at 6:30 p.m., Augustana Lutheran Church, 628 6th St., Andover.
And April 18, there is a benefit screening for the Dillon Home Museum at Sterling High School, at 6 p.m. Tickets for that will be $6. For more information, visit LaneRebelsMovie.com.