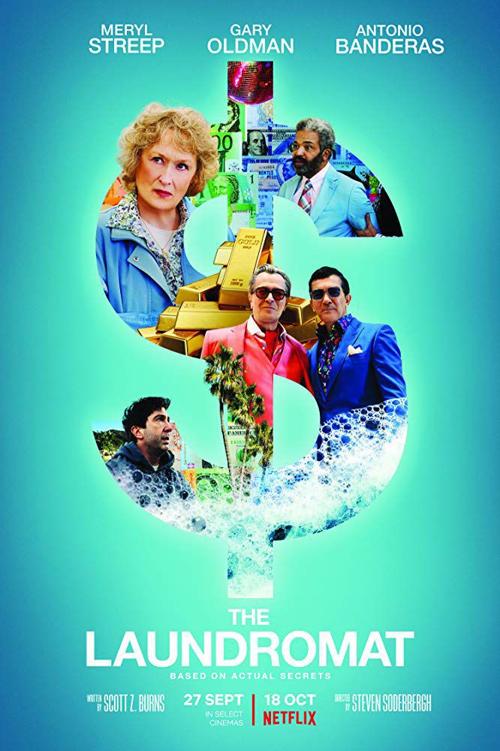 No one rails against the "global elite" more than President Donald Trump. It's easy to forget that the political left has more than a few problems with that elite, too.
Laundromats are a place to clean clothes. "The Laundromat" is a film that airs the most sordid secrets of the world's upper crust. Laundromats are a cross-section of society. "The Laundromat" is a cross-section of genres: biopic, documentary, social drama, political thriller and black comedy. Each has its triumph in a spirited and often funny jumble of current events, human drama and crime thriller.
The movie tracks the rise and fall of Mossack Fonseca, a Panamanian law firm at the heart of the 2016 Panama Papers scandal that exposed countless financial crimes among the world's elite. The firm's founders — Jurgen Mossack (Gary Oldman) and Ramon Fonseca (Antonio Banderas) — are the narrators of "The Laundromat." They're also its antagonists, guiding us through the story the way a burglar might walk a jury through the scene of a crime.
The film's cast includes more celebrities than an episode of "Saturday Night Live." Memorable performers include Sharon Stone as a tacky condo broker in Las Vegas; Larry Wilmore as the shady lawyer of a shady L.A. mogul; and Will Forte and Chris Parnell, who make brilliantly brief cameos as hapless gringos murdered by a cartel lord in a Mexican restaurant.
The film's true star is Merryl Streep as Ellen Martin, an everyday grandmother whose beloved husband dies in a freak ferry accident. After being stonewalled by an purported insurance company that turns out to be a fraudulent shell company, Ellen demands answers.
You have free articles remaining.
So she dives headfirst into the rabbit hole, uncovering a mysterious ring of faux companies, shady businesspeople and corporate coincidences she doesn't understand. Streep billows with the passion of a woman wronged. But mostly, she doesn't understand why no one else understands, or cares.
Ellen's storyline is the most compelling. Unfortunately, she's crowded out by lesser subplots, including annoying interludes with Mossack and Fonseca. Their attitude is inconsistent. The film wants them to be both arch-villains and flesh-and-blood criminals with real heft. In fact, they're neither. More caricatures than anything, they fail to earn either our pity or our outrage.
The worst, though, is a late-film scene involving the shrew wife of a Chinese politician and an unscrupulous Westerner trying to arrange an illicit deal through his offshore fund. The suave and calculating woman demands his loyalty. The oily man refuses, so she poisons him.
I assume Soderbergh includes the episode to show the human cost of elites hellbent on their own enrichment. But why should we care about these crimes any more than we do about the dozens of others — with very real victims — we've seen already?
The scene is gratuitous, slowing down the action near its climax. The narrative becomes over-cluttered, needlessly complicated with a dense subplot that we don't need so late in a film otherwise stuffed with stories.
If its more garish parts were toned down and its highlights extended, "The Laundromat" would be a more even and enduring film. The laughs are there, and the mostly true story is interesting unto itself.
But just as dyes bleed in the wash, the many parts of "The Laundromat" lose their vibrancy when smushed together. Like last year's outrageous comedic biopic "Vice," about former Vice President Dick Cheney, "The Laundromat" has the heat and moral voice of an urgent film, but not the discipline of a great one.