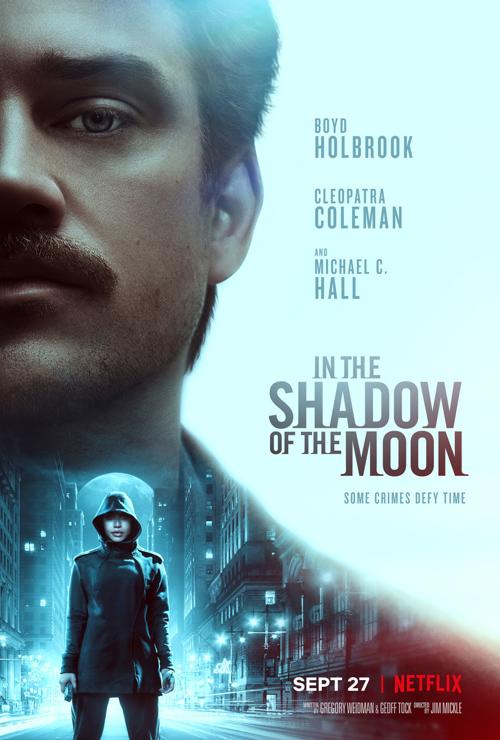 Don't be fooled by the opening chapter of "In The Shadow of the Moon," a five-part science-fiction thriller on Netflix. The film opens in 1988 with Philadelphia cop Thomas Lockhart (Boyd Holbrook) investigating a string of mysterious murders.
"In the Shadow of the Moon" is a resolutely political film. What's deceptive about the opening is what those politics are. Early screentime is dominated by police officers, and the cops can be crude. Their jokes about "gays" are cringeworthy. Worse, perhaps, is when they begin aimlessly arresting black women in Philadelphia after one of the victims describes the assailant as a black female.
Whose side is the filmmaker on? Are we to sympathize with the abrasive cops — including the protagonist — or their victims? In one brief but striking scene, a series of black women stare into the camera and pose with their hands raised — an homage to the "hands up, don't shoot" protest gesture — as their mugshots are taken in the police station.
Later, when protesters march against police abuse, Lockhart, who is white, is dismissive. "Some people aren't happy unless they're mad," he explains to his young daughter. Here the film begins to feel like a defense of Blue Lives Matter.
This is an artful distraction. The film, which spans the years 1988 to 2024, never invokes President Donald Trump or Black Lives Matter, but neither needs mention. That's because the movie's politics are both more traditional and, at the same time, more radical than indicated by its early brush-ups with bigotry.
At the heart of "In the Shadow of the Moon" is an argument about not just speech but thought. The serial murderer, it turns out (which is to say: spoiler alert) is a time-traveler. She's visiting the 21st century to kill off members of a far-right fringe movement who, in the 2030s, launch a catastrophic race war.
Her slayings are justified under a utilitarian calculus: kill a few today and save millions tomorrow. By suppressing an idea—and terminating their vector, human beings—the serial killer is giving human civilization a chance to survive.
This is the argument of the film: some ideas are too dangerous to be given a platform. It's a more extreme version of the view advanced by activists on social media that white supremacists should be booted from Facebook, or that neo-Nazis should be banned from Twitter. Whether you agree or disagree, "In the Shadow of the Moon" presents its case with emotional clarity.
Some might find the idea that murder can be justified in the name of a "greater good" horrifying. In this way, the film is a dangerous idea with a platform to broadcast it. Its boldness and originality are, perhaps paradoxically, an argument for the importance of free speech.
Equally important is the film's other argument, which is more conservative. Late in the film, it's revealed that the time-traveling murderer is none other than Lockhart's granddaughter.
He had spent most of the film tracking her down, trying to halt her killing spree. But the discovery sends him on a u-turn. Once her enemy, Lockhart becomes her backer, conceding to her plan to stop a future civil war.
If the film has one universal moral, it's that minds are changed not with facts and figures but with feelings and emotions. This truth has always been used for evil. But, too, it can unleash the better angels of our nature, like the way a grandfather loves his young granddaughter.
Stay up-to-date on what's happening
Receive the latest in local entertainment news in your inbox weekly!