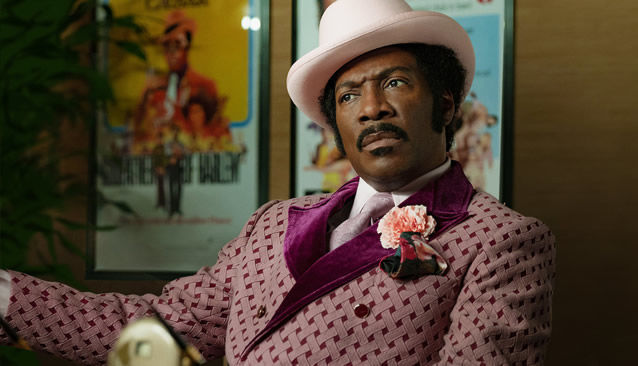 Eddie Murphy is back in a big way. No, not as the donkey in "Shrek" or as the zoo-linguistic Dr. Dolittle.
In "Dolemite Is My Name," Murphy has returned to his R-rated roots. More important, he's starring in a film to be proud of — not one for the family to see, but one that's as winning as any in his career.
"Dolemite Is My Name" is a comedic biopic about Rudy Ray Moore (1927-2008), the comedian and filmmaker known for his character Dolemite. At bottom, the movie is about second chances.
For Moore, born in northwest Arkansas, Dolemite the character was his last best hope at stardom. For Murphy, "Dolemite" the film is a revival of his signature mix of vulgarity and sentimentality. Murphy is perhaps better known for the former. In his better roles, he inhabits both.
"Dolemite" makes clear that he's still capable of portraying the sort of person who annoys you and endears you in equal measure, not the stiffs who are stand-ins for crude jokes.
Murphy's Rudy Ray Moore is one such tender soul whose heart is bigger than his mouth. The film tracks Moore's ascent from failed singer peddling vinyls in a Los Angeles record store to blaxploitation icon and pathbreaking filmmaker of the 1970s.
Moore gets his big break after a homeless man wanders into his L.A. record shop, asking for loose change while orating a novel and strangely compelling comedic poem. At first, Moore is dismissive. Later, he realizes the value of the homeless man's folk art.
You have free articles remaining.
Of course, he's a man on the up-and-up and sees for himself a chance for gain. Over drinks, a sort of bait, Moore cajoles the homeless man and his friends into sharing their jokes with Moore's tape recorder.
Later, Moore commits the bits to memory, tweaking them slightly for improvement (an important criterion for the transfer of property) and using them to launch his new standup comedy act in the persona of Dolemite, an outlandish pimp whose style of rhyming jokes is a predecessor of modern rap.
The origin story is everything: cunning, crafty, entrepreneurial and perhaps unethical. There's something appropriative about Moore stealing jokes from society's least-well-off. The opportunism is rank, even shameless. But the viewer roots for him anyway, because Moore is so easy to root for. On stage, his earnestness wins him a long-awaited success.
As Dolemite, he soars to impressive heights.
A self-made comedy album, which he sells out of his car, becomes a viral commodity in cities across the country. But Moore dreams of bigger stardom yet: the silver screen. Because if "The Front Page" (1974) can rake in millions with no nudity, "no funny and no kung-fu," Moore wonders, why can't he?
As a character always on the make, Moore is as scrappy as anyone who's ever stumbled his way onto the American Dream. His goals tower over him like cliffs. But just as he scales the summit, he sets his sight on higher vistas yet.
The humor — and the film has lots — emerges from the cast's zany, off-the-wall personalities. Lending talents include Craig Robinson, Keegan-Michael Key, Tituss Burgess and the rapper T.I.
There are almost no cheap jokes. Everyone self-deprecates, but only from the sort of honesty that lets one friend joke about another's haircut. What sounds crass or mean codes as authentic, even loving, among people whose loyalties are never in doubt.
That's thanks in large part to the talent of Eddie Murphy. He is neither able to entirely embody Dolemite nor shed his own self. He is both actor and artist, creator and creation. In the balance emerges a performance for audiences to relish.