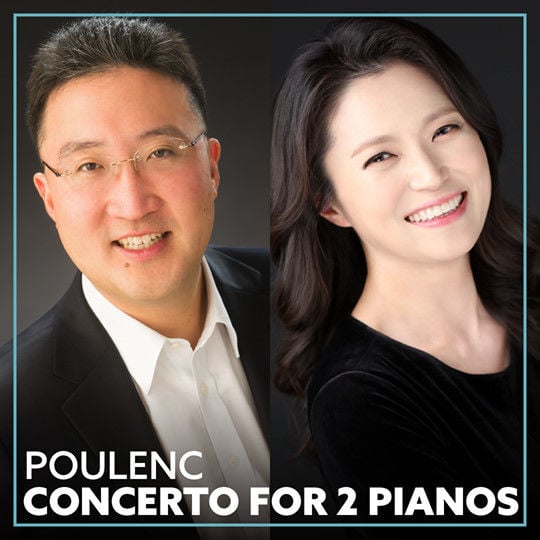 The married couple — he's 51 and she's 50 — will make their Quad-Cities debut in concerts Jan. 24 in Bettendorf (solo) and Feb. 1 and 2 with the Q-C Symphony in Davenport and Rock Island.
"The piano as an instrument has an almost infinite capacity for nuance — when you have two pianos or play one piano/four hands, it multiplies that capacity," Kyung said by email. "Since my husband and I are on the same wavelength musically, we can take musical and artistic risks that can make for more exciting and spontaneous performances."
Formerly dean of music at Brandon University, in Manitoba, Canada, and chair of the keyboard department at Lawrence University, Appleton, Wis., Michael is dean of the music school in Minnesota, where QCSO music director and conductor Mark Russell Smith is the director of orchestra activities.
While Kim is Smith's boss at the university, "When he's on stage, he's the boss," Michael said. "We're very fortunate to have Mark. He's a superlative musician, built the program incredibly."
"There aren't too many concertos for two pianos — including Mozart, Bartok. We've done the Mozart," Michael said. "The Poulenc, if you think about the French aesthetic, to entertain, to please and delight, that's what it's all about, This concerto hits the mark on all those qualities."
Overall, it reflects a series of vignettes on French life, he said. "You hear a little bit of everything, episodes of French life — it's sardonic, humorous, it's lyrical, it's gloomy. The orchestra is fantastic; it's got great melodies."
Playing together and in opposition of personalities, the double concerto is like a marriage, he said.
You have free articles remaining.
"The second movement has a lovely romance, kind of a spinoff on Mozart's 20th concerto. The slow movement is entitled 'Romance,' there's just a beautiful love theme," Michael said. "The two pianos are very much in sync with one another and reflect the trials and tribulations that you face in marriage. Love isn't all smooth sailing; there are a lot of ups and downs."
"The drama and rhetoric of this concerto are unbeatable," Kyung said. "This concerto would be a real treat for audience because it's like a collage work of various musical styles — you can enjoy a little bit of Mozart (with a touch of Art Deco), jazz and even mesmerizing Gamelan sonority in one concerto. This is a musical drama that would only be possible with two pianos, who play in conflict and sync with one another."
Michael holds a doctorate from the Julliard School in New York, and was silver medalist in the 1992 Scottish International Competition in Glasgow, and grand-prize winner of the Canadian Music and Canadian Broadcasting Corporation National Radio Competitions.
Kyung has performed throughout Asia, North America and Europe. Since making her professional debut at 13 performing Beethoven's Third Piano Concerto with the Seoul Philharmonic (South Korea), she's done concerti with many Midwestern orchestras.
A graduate of Seoul National University, she earned her doctorate at the University of Wisconsin-Madison. Kyung is regularly invited to present master classes throughout North America and Asia.
A concert on the Pleyel double-grand piano
They both will give a free concert Friday on the rare 1904 Pleyel double-grand piano at Asbury Methodist Church, Bettendorf. Made in Paris, it's the only one in a playable condition that people can perform in the Western Hemisphere.
"It sounds like the equivalent of a Siamese-twin piano; of course we had to say yes," Michael said. "It's first time we've performed on piano like this."
They'll play a variety of well-known pieces, to showcase the instrument, in "as wide a range of color and character as we possibly could have," he said. In honor of the Pleyel's French heritage, the program includes the Maurice Ravel "Mother Goose Suite" (1910) and Claude Debussy "Petite Suite" (1889), both penned for four hands.
"It's a nice preview leading up to the Poulenc, the same musical aesthetic," Michael said.
"It will be fascinating to see how the piano's unusual construction affects the resonance and musical timing of our selections," Kyung said. "It will be every bit an adventure for the audience as it will be for us aurally and choreographically."