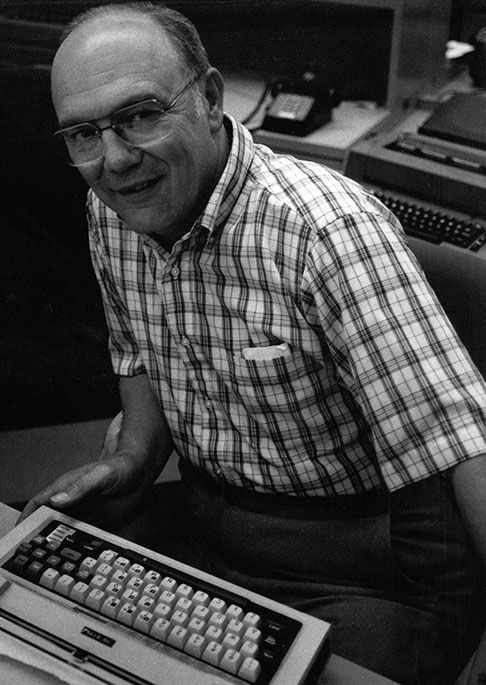 Like the rest of its impressive catalog of documentaries about Midwest stories, themes or personalities, Fourth Wall Films' new one — "The Amish Incident: Rural Conflict & Compromise" — is respectful, reflective and enlightening.
The half-hour doc, which unearths the stories behind a nearly 54-year-old controversy, will premiere on WQPT-PBS at 9 p.m. Sunday. The "incident" in question centers around an iconic Nov. 19, 1965, Des Moines Register photo of Amish children fleeing into cornfields, after school officials in rural Buchanan County (north of Cedar Rapids) tried to bus them to public school.
The incident and photo ignited a firestorm of arrests, fines and controversy leading to a unique precedent-setting covenant between the "Plain People" (who now number over 17,000 in Iowa and Illinois) and the State of Iowa, according to a film synopsis.
"The Amish Incident" — which is styled as an old-fashioned paean to the importance and impact of journalism — weaves interviews with key people in the story with newly discovered archival materials and photos.
The release of the doc is timely, as one of those primary characters — Gene Raffensperger, longtime reporter/editor for the Register's eastern Iowa bureau, based in Davenport — died this past November at 89. His interviews in "The Amish Incident" were recorded in 2009, as Moline-based filmmakers Kelly and Tammy Rundle were making their "Country School: One Room — One Nation."
"Every bit of it, to me, was fascinating," Raffensperger says in the new film, having covered the story from 1962 to 1966. And while the documentary reveals quiet, admiring glimpses of the Iowa countryside, in black-and-white and color, it also generates its own subdued suspense, as we learn how the conflict between the Amish and public-education officials was resolved, over several years.
The humble, simple Amish — who arrived in Iowa in 1840 — live without cars, electricity or phones, but they value education and are voracious readers, the film notes. Former Oelwein superintendent Arthur Sensor says the incident gave Iowa a black eye and made the school district look bad, admitting he should have handled it much differently.
The famous photo ran two straight days in the Register and was picked up across the nation, including in Life magazine. While Iowa wanted to uphold its education laws, the Amish tried to uphold values of their faith, and have their kids taught in their own schools.
A compromise was reached in 1967, where the Amish were allowed to use their own teachers; students did not have to attend past eighth grade, but they had to pass the Iowa Test of Basic Skills.
A 1972 U.S. Supreme Court decision — based on a Wisconsin case — said attempts to compel Amish students to attend school past eighth grade would be a violation of the First Amendment right to religious freedom.
Since the Amish don't allow posed photos or sitting for a video interview, the Rundles said it was challenging to create a complete picture of who the Amish are and do their story justice. With gentleness, humility, intelligence and directness that would do the Amish proud, "The Amish Incident" certainly does this compelling tale justice.