It's a Tuba Christmas again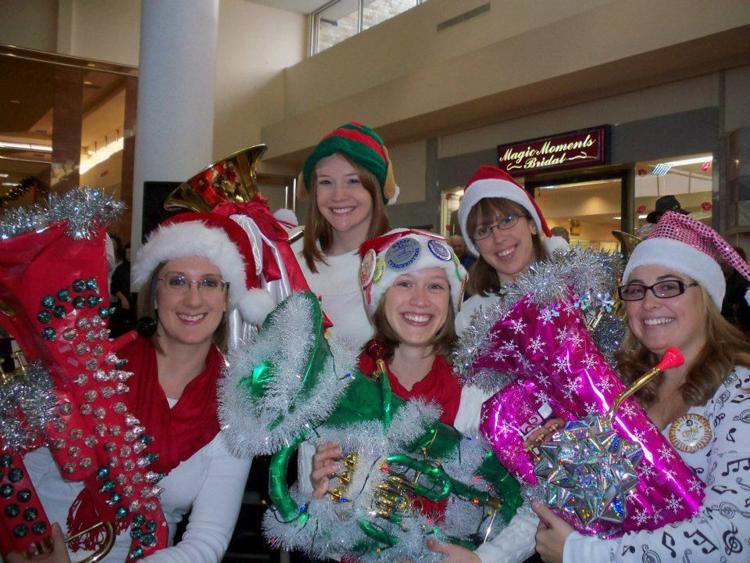 If you've never heard 100 tubas playing holiday music, jingle on down to Griggs Music's 28th-annual QC TubaChristmas at 2 p.m. Saturday at SouthPark Mall, Moline, All area tuba, euphonium and baritone players are invited to be part of the free concert, to be held in the former Younkers courtyard at SouthPark, 4500 16th St.
Players can register for $10 (which includes a commemorative pin) from 9:15 a.m. to 10 a.m., followed by a two-hour rehearsal and an instrument decoration contest in the store space near Von Maur. The concert will start at 2 p.m., conducted by Andy Owen, band director at Tipton High School, and hosted by Jake Walker, director of bands at Rockridge School District.
There will be recognition for best instrument decoration, oldest and youngest players, as well as who traveled the farthest to attend and multi-generational family participants. Music for the performance can be purchased at Griggs Music, 3849 N. Brady St., Davenport.
TubaChristmas was conceived by Harvey Phillips in 1974 as a tribute to William J. Bell, who was the premier tuba player in America in the first half of the 20th century, according to a release from Griggs. He performed with John Phillip Sousa, the Cincinnati Symphony and NBC Symphony Orchestra. For more information about TubaChristmas, visit tubachristmas.com.
For those interested in performing or questions about participating, visit facebook.com/qctubachristmas, or contact Chris Foster/Tami Seitz at Griggs, 563-391-9000.
Rock out at academy battle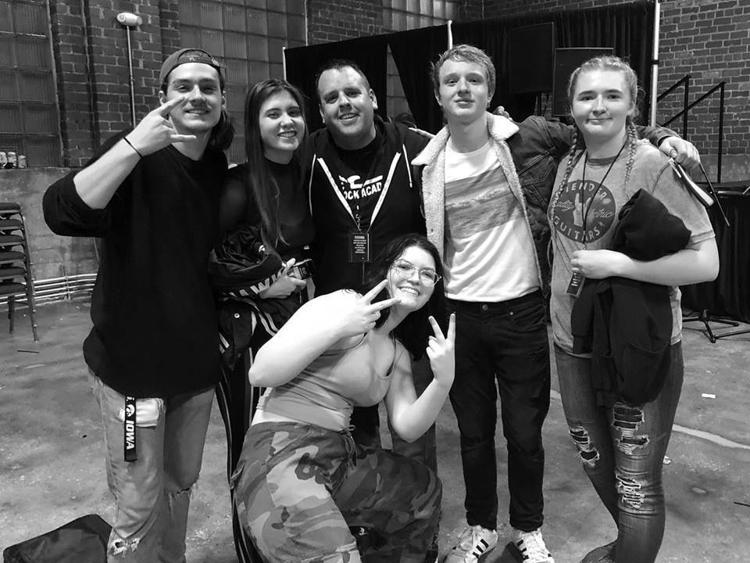 Earlier this month, the music school at 901 E. Kimberly Road, Suite 22, Davenport, marked its eighth anniversary. It has nearly 425 students per week coming to learn to play their favorite instruments.
"Our kids have played some of the top festivals and events around the area like Bix Streetfest, 97X TributeFest, She Rocks Fest in Bettendorf and Potosi, Wisconsin, Iowa Rocks Talent and many others," said Greg Hipskind, a drummer and QC Rock Academy director. "Our student band, Been There Done That recorded and released their first CD at Catamount Recording and have even had gotten some radio play! Our student bands have shown that they can play at a level equal to many seasoned musicians around."
Hipskind is also grateful for the touring artists who have taken time to hang with QCRA students while they were in the area this year — including the legendary James Taylor, Lindsey Ell, Kevin Murphy (drummer for country star Jon Pardi), Ryan Roxie, Brandon Gibbs and Joel Kosche from the Planet Axe Tour, Troy Luccketta (drummer for Tesla), Godsmack, Miranda Lambert and her band (Boo Massey, Alex Weeden) Goo Goo Dolls, Old Dominion, as well as Tony-winning director, Rachel Chavkin ("Hadestown").
Saturday's contest includes Been There Done That, Last Thursday, Crushed Monkey, Strictly Business, Made Ya Look, Tell Tale Heart, Daze Off, the final QCRA show for Hum Hum & the Crash and first one for the new band, Zero Gravity. Tickets are $10, available at eventbrite.com.
You have free articles remaining.
Raise a glass to mental health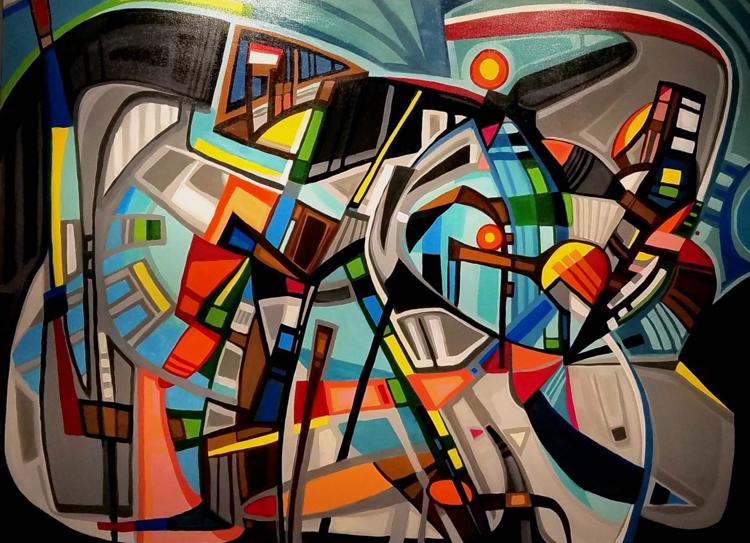 The artists of Bucktown Center for the Arts will host a Wine Walk from 6 to 9 p.m. Friday at 225 E. 2nd St., Davenport. Guests may purchase a hand-painted wine glass for $20, which entitles them to a tasting of unique wines from Dimitri Wine & Spirits.
The evening will include strolling carolers from the Black Hawk College Community Chorale under its new director, Irene Apanovitch-Leites. She started this past summer at BHC as director of choral activities, moving from southern California. Apanovitch-Leites earned her doctoral degree in choral conducting from the University of Southern California.
On Friday night, an opening reception will also be held for Bucktown artist and gallery manager Tony Seabolt. His paintings explore shape, form, abstract and three-dimensions. Seabolt's show runs through Jan. 31.
A percentage of wine glass sales during the event will support the National Alliance on Mental Illness (NAMI) Greater Mississippi Valley. The local NAMI affiliate is part of the nation's largest grassroots mental health organization, which provides free education and support programs to individuals and families living with a mental health condition.
Bucktown is part of Midcoast Fine Arts, a Q-C nonprofit organization focused on stimulating the community's cultural and economic vitality through the support of regional visual arts and artists. The Center features unique shops and studios where you can purchase creative, unusual and usable works of art created by local artists.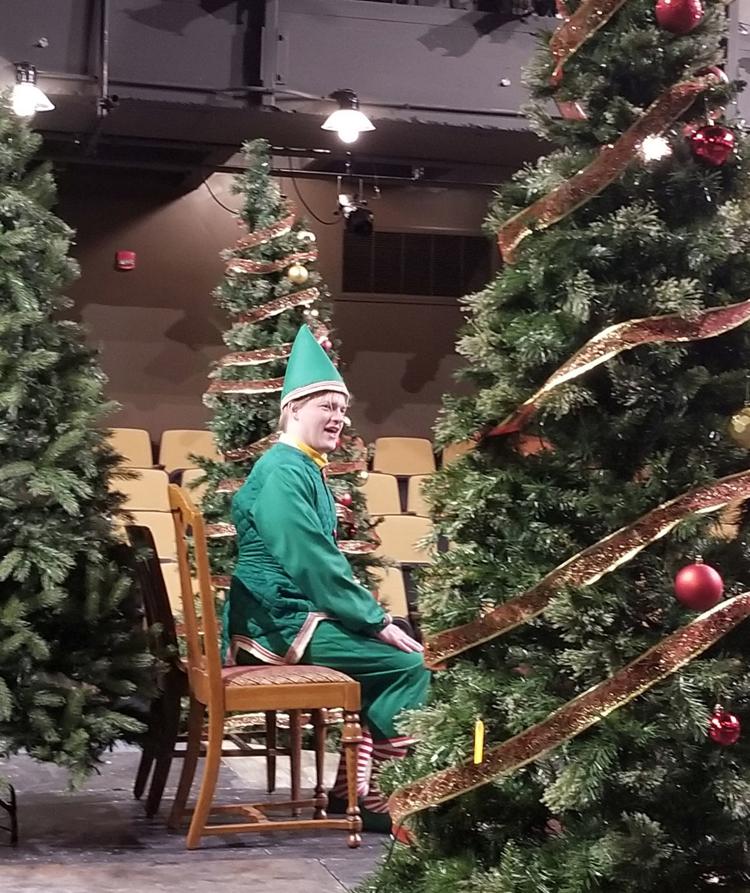 The first non-summer show for the three-year-old Mississippi Bend Players (MBP), based at Augustana College's Brunner center, the adult-themed holiday hilarity will be performed at 7:30 p.m. Thursday to Saturday, and 2 p.m. Sunday.
Each year, MBP produces a three-show season and a weeklong day camp for young people. Jennifer Popple is directing "Santaland Diaries" — about a flawed Macy's department store elf named Crumpet — which serves as a fundraiser for the company (tickets are $20 each) and a way to announce the 2020 summer season. This past season featured "Biloxi Blues," "A Green River" (which starred Odenkirk) and "Dames at Sea."
Now based in Chicago, Odenkirk is a 2018 Augie grad, with degrees in theater and computer science. With major roles in MBP's "Beginner's Luck" and "The Glass Menagerie," he competed at the Kennedy Center American College Theatre Festival. Odenkirk earned a Hilton Worldwide Award for Distinguished Performance by a Supporting Actor, an Irene Ryan Acting Scholarship and the NAPAT Classical Acting Award.​