This is for all you art-film aficionados, along with Elisabeth Moss fans. And you American-literature fans and horror appreciators will get a kick out of it, too.
"Shirley" is kinda/sorta based on the life of horror writer Shirley Jackson, author of the classic "The Lottery" and "The Haunting of Hill House." What's cool about the screenplay is it's written as if Shirley herself had penned it.
There's more of a little than "Who's Afraid of Virginia Woolf?" here, with inebriated spouses, lies and manipulation going on behind a veneer of contented lives.
Shirley's spouse is the philandering professor Stanley (Michael Stuhlbarg, "The Shape of Water.") Shirley, who has anxiety and often can't bring herself to get out of bed, has little time for other people and generally goes out of her way to make snide comments or verbally attack those around her.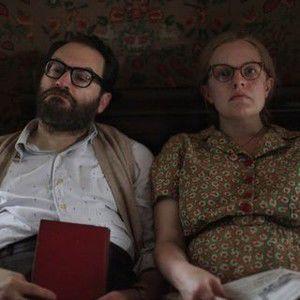 Both she and Stanley drink a lot and trade barbs publicly and privately.
Young professor Fred (Logan Lerman, "The Perks of Being a Wallflower"), and his new wife Rose (Odessa Young, "Assassination Nation") arrive, and begin what starts out as a short stay with the older couple.
After the vicious, insightful Shirley brings Rose to tears, she begins to befriend the younger woman, who acts as both servant and inspiration for Shirley's new project.
The film is an adaptation of Susan Scarf Merrell's "Shirley: A Novel." It's sprinkled with images that evoke moods both sinister and dreamy.
Moss not only resembles her character, but she also gives her a multi-dimensional feel, from a bully to an insecure wife, sometimes from one second to the next. She's a terrific performer who gives every one of characters depth, regardless of the tone or subject of the film.
She and Stuhlbarg are wonderful together, always ripping into each other, having drinks, then stepping back to assess the damage and tearing each other apart again. Their cruel exchanges are reminiscent of the hard-drinking, battling couple played by Richard Burton and Elizabeth Taylor in "Who's Afraid of Virginia Woolf?"
Young is terrific, too, as the bride who must find her way through a series of obstacles, none of the least of which is Shirley. Her character of Rose learns, grows and gains confidence, which earns her Shirley's tentative trust and friendship.
It's impossible to guess the lineup for the Academy Awards at this point, but I think Moss has a chance, and this film may too, for that matter.
I hope this spurs renewed interest in Shirley Jackson's works (I advise you to start with "The Lottery.")
I think Shirley Jackson herself would have appreciated this story about the horrors people sometimes visit upon each other — especially those who are closest to them.
Stay up-to-date on what's happening
Receive the latest in local entertainment news in your inbox weekly!