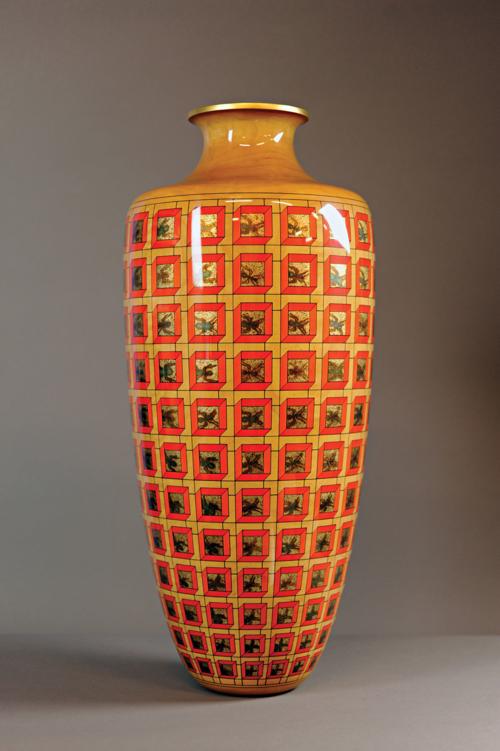 Woodturner to exhibit at the Figge
DAVENPORT — A local master in woodturning, Bettendorf artist Steve Sinner, will display his work in a new exhibit opening Saturday at the Figge Art Museum, 225 W. 2nd St.
On display in the second-floor Lewis Gallery through June 24, "Steve Sinner: Master Woodturner" highlights nearly 30 examples of solo work and collaborations, as well as his innovations within the art form.
Woodturning is the process of fastening wood to a lathe that rotates around a centralized axis, allowing artists to use a series of chisels, gouges and other implements to carve away portions of the raw wood to create symmetrical forms, according to a museum release.
You have free articles remaining.
Traditionally, this process was used to create furniture legs, tool handles and other household implements, and Mr. Sinner is among artists who use this technique to create finely crafted vessels, the release said.
The surface of Mr. Sinner's pieces range from "meticulously rendered geometric forms based on algorithms to figurative allegories," the museum release said. "These designs are created from a combination of mediums, including acrylic paint, gold leaf, ink and urethane. Other surfaces are embellished by selectively removing sections of the vessel, producing a screen of perforations that allow light to permeate the form."
Mr. Sinner, who's worked in the field for 50 years, will give a free talk about his art at 6:30 p.m. Thursday, Feb. 22, preceded by a 5:30 p.m. reception.
The artist will present "An Improbable Journey," the story of how he set out to gain recognition in the woodturning world. He's dedicated himself to artistic woodturning for two decades, "though his passion for and experimentation with woodturning began long before then," the release said.
His works are found in museums, galleries and collections from coast to coast, including at the Figge Art Museum.