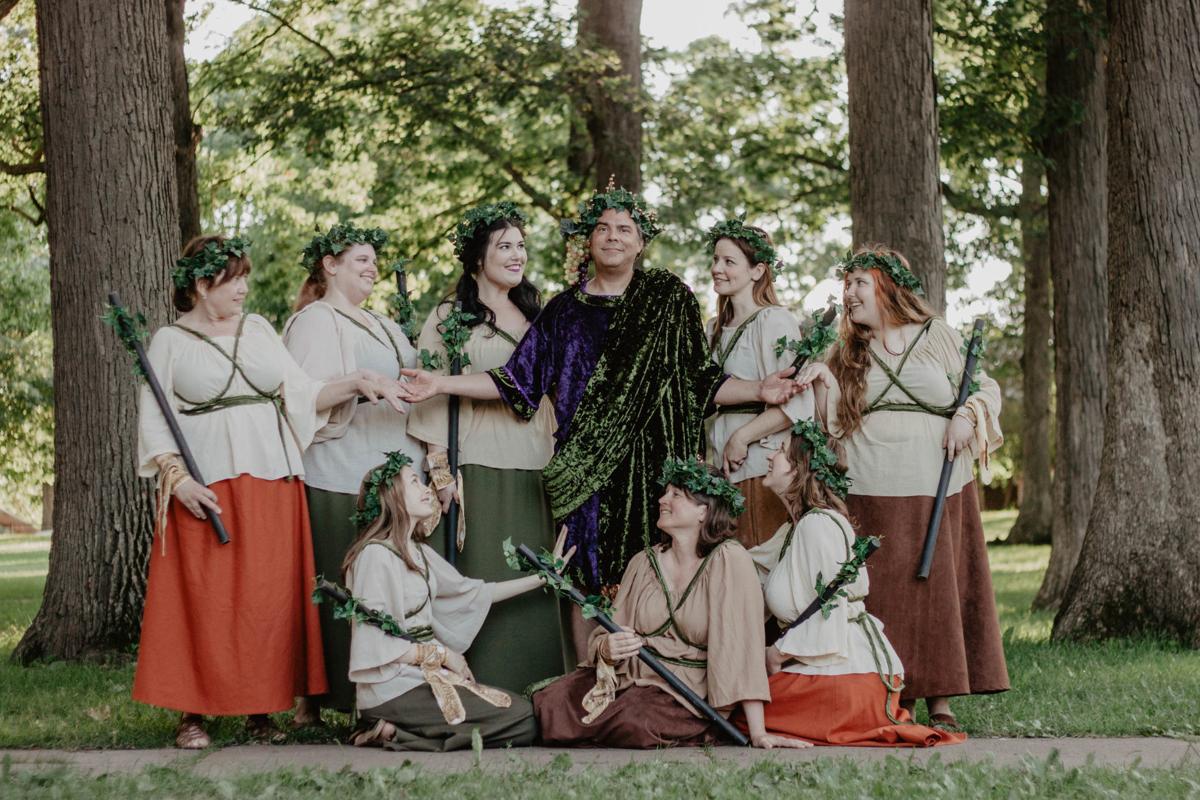 Genesius Guild's next performance is "The Bacchae" by Euripides at 8 p.m. Saturday and Sunday (and the following weekend) for free, at Lincoln Park Classic Theatre, 1120 40th St., Rock Island.
Considered to be one of the greatest tragedies ever written, "The Bacchae" takes a step forward in playwriting, according to a Genesius release, noting Euripides brings the chorus more into the plot and makes Dionysus, the Greek god of wine, an active participant in the show, rather than an overseeing authority figure.
"The Bacchae" is one of many Greek tragedies that explore themes still relevant in today's world, the release said. "This show examines the balance — and conflict — between our human instincts and appetites, and the social structures and practices that keep these instincts and appetites under control. It also includes themes of religious ecstasy and the potential for religion to become dangerous."
An essay at ancient-literature.com says the play is "considered one of his best works and one of the greatest of all Greek tragedies," likely written as early as 410 BCE, but it premiered posthumously at the City Dionysia festival of 405 BCE, where it won first prize. The story is based on the myth of King Pentheus of Thebes and his mother Agave, who are punished by the god Dionysus (also known to the Greeks as Bacchus) for refusing to worship him.
The play begins with the young god Dionysus, who explains the complicated circumstances of his birth. His human mother, Semele, became pregnant by Zeus, king of the gods. Zeus' wife, Hera, angry at her husband's betrayal, convinced Semele to look at Zeus in his true form, for which Zeus appeared to her as a lightning bolt, killing her instantly. At the moment of her death, however, Zeus saved the unborn Dionysus, hiding it from Hera by sewing the fetus up in his own thigh until it was ready to be born.
Semele's family, particularly her sister Agave, had never believed her story about a divine child, convinced that Semele had died as a result of her blasphemous lies about the identity of the baby's father, and Dionysus has therefore always been spurned in his own home.
Meanwhile, Dionysus has traveled throughout Asia gathering a cult of female worshippers (the Bacchae, who are the chorus of the play), and has returned to his birthplace, Thebes, to take revenge on the ruling house of Cadmus for their refusal to worship him and to vindicate his mother, Semele.
Dionysus enacts his revenge using a cult of his followers (the Bacchae), raising questions of religious ecstasy and the potential for religion to become weaponized, according to the Genesius release.
This show continues Genesius Guild's unique offering of Greek tragedy in mask. The Guild is the only theater in the U.S. that stages Greek tragedies, performed in mask, every season. For more information, visit genesius.org.