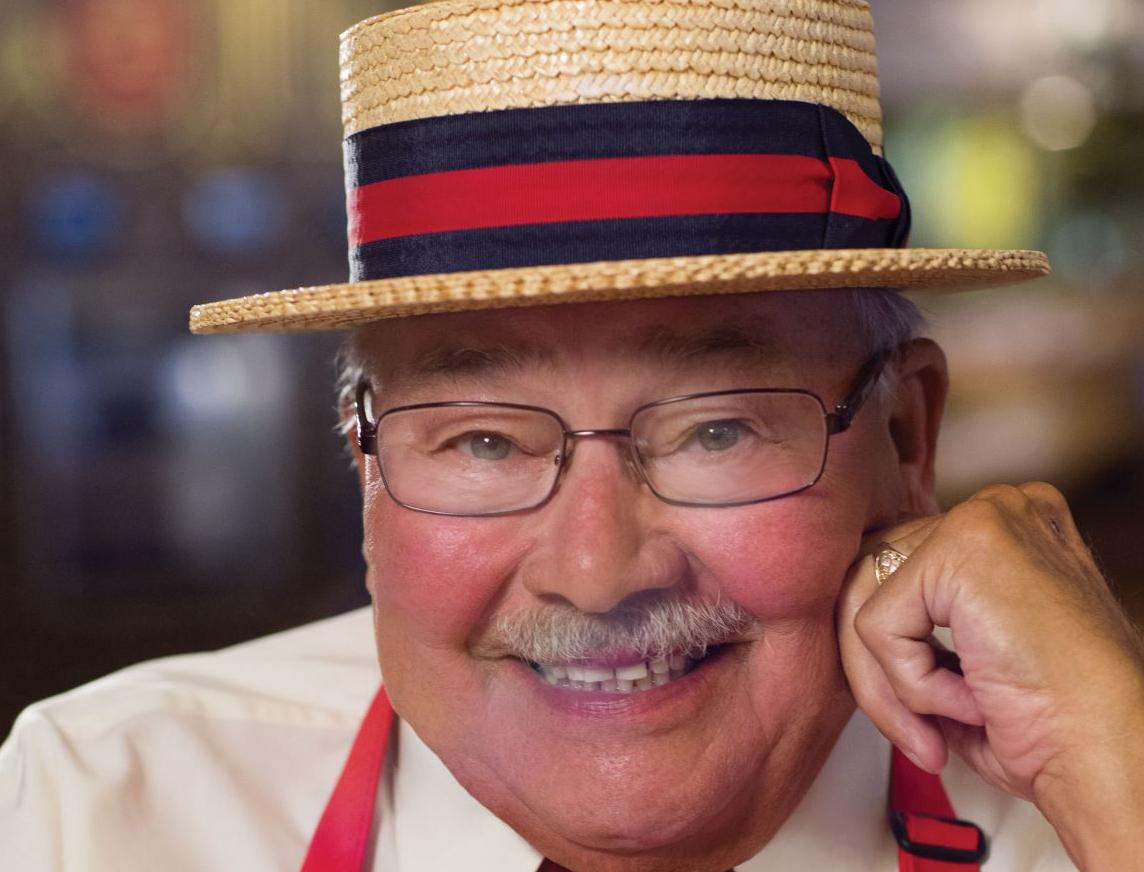 The Quad-Cities and Bettendorf lost an entrepreneurial and philanthropic icon last week with the death of Lawrence "Happy Joe" Whitty. 
The Davenport baker-turned-pizza-magnate carried a love for people, having a good time and making people laugh with him wherever he went. He died Tuesday, Oct. 29, at the age of 82 at the Clarissa C. Cook Hospice House in Bettendorf.
Funeral services for Whitty will be at 10:30 a.m., Saturday, Nov. 9, at St. John Vianney Catholic Church, 4097 18th St., Bettendorf. Burial will be at Mount Calvary Cemetery, Davenport. A Celebration of Life will follow from 4-9 p.m., Saturday, at Jumer's Casino & Hotel, Rock Island. Both the funeral and Celebration of Life are open to the public.
A private visitation will be held for family and close friends at 3 p.m., Friday, Nov. 8, at Halligan McCabe Funeral Home, Davenport. 
Whitty will be remembered as the founder of a chain of Happy Joe's Pizza & Ice Cream Parlors that brought pizza and ice cream to all, and horns and sirens to those celebrating birthdays.
He also will be remembered for his philanthropy, particularly through the Happy Joe's Kids Foundation that he and his family founded in 2012 to improve the lives of children with special needs. The foundation's signature activity is a big holiday party.
Though the foundation was established to note the 40th anniversary of the company, Whitty had been sponsoring parties for many years before that, beginning in his own restaurants and eventually moving to larger venues, finally settling at the iWireless Center, now TaxSlayer Center, in Moline. The party in 2018 was the 46th, attracting more than 1,000 people with food, music, gifts, balloons and dancing.
You have free articles remaining.
"I have always had a soft spot for these special kids and their families," Whitty told a reporter in 2014. "The kids go through so much and the parents are amazing people who stop at nothing for their kids."
Whitty began his career as a baker in Crookston, Minnesota. In the 1960s, he moved his family to Davenport to manage the bakery in what was then a Super Valu store on West 4th Street.
Three years later he opened a bakeshop at the former Mercy Hospital, now Genesis Medical Center-West Central Park Avenue, and became its dietary director. A chance meeting with a visitor at the hospital got him a management position at the former Shakey's Pizza in Davenport.
As people left the store, they often asked where they could go to get ice cream, a question that gave him the idea for combining pizza with ice cream several years later.
After a stint managing three Shakey's in Albuquerque, New Mexico, he and his family moved back to Davenport. His wife Sandy had encouraged him to follow his dream, so with "no more than two nickels to rub together," as he was fond of saying, he secured a $30,000 Small Business Administration loan and on Nov. 16, 1972, opened the first Happy Joe's in the Village of East Davenport. The location was a former drug store that now is Lagomarcino's Confectionery.
Whitty's family-oriented pizza parlor in the Village became and instant hit, and he was on his way to blockbuster success.
Two years later, in November 1974, his wife died of leukemia at the age of 34, leaving him with two boys and two girls. Whitty soldiered on and two years later he married Nancy McGrath, who brought five children to their marriage. And the business continued to expand.
At its peak, Happy Joe's had about 100 stores throughout the country and once claimed locations in Egypt and Saudi Arabia. In 1990, Whitty was inducted into the Quad-Cities Area Business Hall of Fame, sponsored by Junior Achievement.
In 2017, Happy Joe's announced a partnership with Dynamic Restaurant Holdings, which acquired a majority share of the Bettendorf-based company.