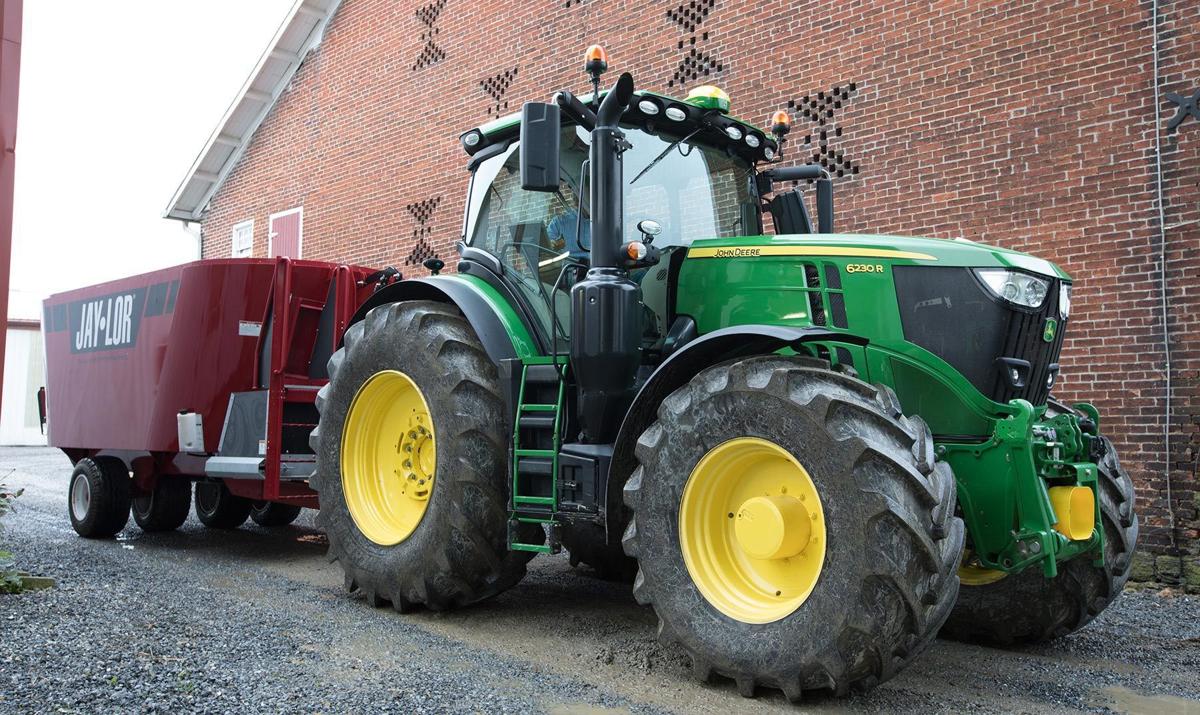 Deere & Company had a stronger first quarter than expected, according to its earnings report released Friday.
The Moline-based equipment manufacturer reported net income of $517 million for the first quarter ended Feb. 2, or $1.63 per share, compared with net income of $498 million, or $1.54 per share, for the quarter ended Jan. 27, 2019.
Brent Norwood, manager of investment communication, and Ryan Campbell, Deere's chief financial officer, hosted Friday's earnings call. Both noted market access improving since U.S. President Donald Trump signed the new North America trade deal, known as USMCA, and the Phase One trade deal with China earlier this year.
"Farmers will likely remain cautious until ag exports to China begin to flow. Given the seasonality for soybean demand, exports to China are unlikely to increase significantly until harvest season," Norwood said.
"As a result, we do not expect significant changes in the replacement cycle (for equipment) during fiscal year 2020 … the actions we took in 2019 resulted in desirable field-inventory to sales ratios that are significantly below the rest of the industry and we'll continue to manage new equipment inventory throughout the year carefully."
But what is included is China's promised purchase of American goods and commodities remains to be clarified.
"It's still early to determine what that looks like. Also, what commodities make that up plays a pretty big role. Is it a continued purchase of soybeans, or is it other commodities like ethanol and other things that haven't always been there or have been significant? So a lot of questions still there," Campbell said.
He also noted Deere's investment in precision ag, or the use of technology that allows farmers to move more precisely in their fields, has benefited customers seeking economic value for their work.
"Customers are increasingly opting for solutions that offer the highest levels of productivity, driving a better outcome for their operations and higher average selling prices for us. We view this as evidence we can drive growth in our financial results even when the number of our sales are flat, or down," Campbell said.
Aging equipment is still in the fields, he said, likely the oldest in use since the early 2000s.
"We think we're there in terms of the driver's replacement demand, and on top of that technology and productivity," he said.
Company becoming 'leaner'
Worldwide net sales and revenues decreased 4 percent in the first quarter of 2020 to $7.631 billion. Net sales of the equipment operations were $6.530 billion for the quarter, compared with $6.941 billion in 2019.
The company spent $127 million in the quarter on employee buyouts announced during its earnings call in November. As a result, the company expects long-term savings as it becomes "leaner" and "more agile."
Declining demand in construction and forestry continues to be a concern. Deere projects a 10 to 15% reduction in net sales worldwide for the division, and has had layoffs at John Deere Dubuque Works and Davenport Works, which manufacture construction and forestry products.
Workers at John Deere Harvester Works in East Moline and John Deere Waterloo Works are in the agriculture and turf divisions. East Moline employees make combine harvesters and front-end equipment for combines while Waterloo workers manufacturer tractors.
Deere officials also continue to monitor the potential impact of Covid-19, or coronavirus, which has led to a temporary closure of Deere's Chinese operations. Deere's supply chain is how the virus would most impact the manufacturer in regards to its international operations.
Campbell said the company has allocated $40 million in its second quarter so it can ramp up production when the situation with the virus improves.
It appears some cuts may be coming to international operations in 2020, which was highlighted at a consumer trade show earlier this year.
Deere wants to "refocus our capital allocation on investments that intensify our precision ag leadership" and expand its retrofitting and used market, Campbell said Friday.
"We'll pursue additional opportunities pertaining to our overseas footprint and organizational design … we will provide updates on these initiatives during our quarterly earnings calls."
Sarah House, an economist with Wells Fargo, spoke earlier this week about the U.S. manufacturing industry as a whole.
High inventory balances out any current concerns, she said, but U.S. manufacturers rely more on China for its supply chain than they did in 2003, during the SARS outbreak.
"We've got a cushion here in the U.S., but of course you only need one missing component to potentially shutdown an entire supply chain," House said. "Generally speaking, it seems like supply chain managers have learned some lessons over the last couple decades and moved away from the extreme just-in-time inventory to some extent."
Before the Covid-19 outbreak, House said the manufacturing sector was showing signs of improvement. The Institute for Supply Management survey scored a ranking of 50.9, for January, breaking a five-month streak of sub-50 scores, which normally indicates contraction in the industry.
"Things were getting better, at least until we headed toward this potential disruption of the coronavirus, perhaps shipment and inventory issues. At least heading into this period, things were starting to stabilize a little bit so that's something," House said.
Mark Grywacheski, investor advisor with Quad-Cities Investment Group, said Deere's optimism, which bore out in its stock price surge of about 8% by mid-day Friday, was a sign of overall manufacturing optimism.
"I think American consumer spending remains extremely strong and should continue to drive this economy forward." That, combined with the two trade deals that eases pressure on farmers and manufacturers, could lead to a bounce back for the global economy, Grywacheski said.
Grywacheski has optimism for the manufacturing industry this year, but said the promised Chinese purchase of American-made commodities may not make an immediate impact.
"It's going to take some time to filter through the economy and filter through these manufacturing supply chains," he said. "I think this initial earnings statement is kind of indicative of that. I think it's a cautious optimism."
Concerned about COVID-19?
Sign up now to get the most recent coronavirus headlines and other important local and national news sent to your email inbox daily.