Kathy Braga knows mobile homes. She's been around them for nearly 60 years as a resident, owner and mobile home park manager.
Since 2010, Braga has lived in Park Plaza, a Muscatine trailer park where she is the proud owner of her 16x80-foot home. She came to Muscatine to save her life. She was battling cancer, and she wanted to be closer to her cancer treatment in Iowa City.
Braga, 81, is now cancer-free. But her time is occupied by another fight: with the new owners of her mobile home park.
For years Park Plaza was owned locally. That changed in April 2019, when the park was bought by Impact Communities, a Colorado-based firm that's part of a national trailer park empire.
Mobile homes, also known as manufactured homes, or trailers, are usually owned by their occupants. But the occupants don't own the underlying land. So they pay a rental fee to the landowner.
Across Iowa, that land is owned increasingly by a large, out-of-state company. Residents and some industry watchdogs allege these firms are raising living costs and shirking landlord responsibilities.
In the 12 months since Impact took over, Braga said the costs of her lot rental, water and sewer access have increased 19%. Meanwhile, the community's net assessed value only increased by 6% between 2019 and 2020, according to public land records.
"When you live on Social Security, it's a lot of money," Braga said. "We feel like maybe they want to get rid of us."
She's worried that if rents keep going up, she could face homelessness. "I might end up in my car," she said. "I'd have to sell."
Braga's frustrations are part of a decade-long trend in which big firms buy up trailer parks in pursuit of hefty returns on their investment. The resulting conditions are receiving scrutiny from policymakers in Washington, state lawmakers in Des Moines and housing advocates nationwide.
"Some of the largest investors in the world are buying into mobile home parks," said Jim Baker, director of the advocacy nonprofit Private Equity Stakeholder Project. "They have a captive audience, and they can reliably keep raising rents or reducing costs by deferring maintenance on the communities."
Now residents of mobile home communities in the Quad Cities are speaking out. They say they're frustrated with unresponsive community managers, deferred maintenance requests, crumbling roads and rising living costs that make their neighborhoods less affordable and more undesirable.
"I was proud to live here. Now it's going downhill," said Janet Tracey, a longtime resident of Silver Creek, a mobile home community in northwest Davenport. Silver Creek is owned by YES Communities, a Colorado-based investors company that owns some 200 mobile home communities across 18 states. Other YES communities in Davenport include Lakeside Manor, Lakewood Estates and Five Seasons.
"I live on a fixed income," Tracey said. "If you're going to raise rents, fix the problems."
'They thought we were poor, so we must be stupid'
Despite the name, mobile homes are hardly mobile—they're fragile, heavy and expensive to relocate.
"It's rough moving a mobile home," Braga explained.
When she came to Muscatine, she moved with her mobile home. She said she would never do so again. "God help me, don't ever do it. It's very, very costly."
Even if a unit is movable, it's hard to find a place to permanently leave one. Mobile home parks are known to trigger fierce community opposition due to "not-in-my-backyard" concerns. To destigmatize the structures, and to convey their immobility, some occupants have dropped the "mobile home" moniker in place of the label "manufactured home."
They're mocked as trashy, but trailer parks are a holding ground of dreamers — veterans, single parents, immigrants and families on the cusp of the middle class. As housing becomes more and more expensive nationwide, mobile homes are a remaining bastion of affordable housing for individuals with low- or fixed-incomes.
"There's a reason we live in a trailer park," said Alicia Sperry, a nine-year resident of Silver Creek, the mobile home community in northwest Davenport.
Sperry is fed up with life in her neighborhood. She's tired of the large potholes that have gone unfilled for months, of what she described as exorbitant fees for late rent payments and for not mowing her lawn, and of the park's "poor management" that she said is unresponsive.
Rising costs are also a concern. Sperry said her water, lot, sewer and trash costs have gone up about 31% over the last nine years.
"It's very huge," she said. "We're trying to get out. A house would be so much cheaper."
Sperry has four kids. When costs go up, it means one of two things: "We're late on other bills, or we have less food for that month," she said.
She's not sure where her money is going; she doesn't believe it's being reinvested in the community. "Nothing's getting fixed or done. I don't know why they increase costs. They do it every year."
A spokesperson for Yes Communities did not answer a list of questions, saying, "We are focusing all of our efforts on dealing with the pandemic to ensure our residents are safe. This is taking precedence."
Angela Smith is a neighbor of Kathy Braga at Park Plaza, in Muscatine. Last August, Smith learned the new park owners planned to install water meters on all of the trailers. The meters went in with little fuss. But when residents received their first water bill with the new meters, their confusion became indignation. Smith said her first water bill was over $100—somewhere between seven and ten times more than the usual cost.
"It was outrageous," she said. "They were trying to price gouge us. They thought we were poor, so we must be stupid."
Impact eventually lowered the water rates and reimbursed residents for the charges. But Smith said the meters are non-weatherized and that her pipes froze in January as a result of faulty meter equipment. When she reached out to the park manager, she was told she had to fix it herself, Smith said.
"If that pipe were to burst, it'd shoot right up and we wouldn't be able to stop it. It'd totally destroy the trailer," Smith said. "It's not a dead issue. I don't trust them."
Kevin Fosshage, Midwest regional vice president for Impact Communities, acknowledged that lot rents have increased 12.3% in the year since Park Plaza was acquired by Impact. But he said rents are "still below market average," and he detailed tens of thousands worth of investment in the community.
Fosshage said Impact incurred all costs related to the replacement and installation of the meters. "As part of our capital improvements and updates to the community, we made the decision to replace the existing water meters with upgraded 'smart meters' for better accuracy of readings and transparency with our residents," he said.
"Regrettably, in the initial billing month, there was a clerical error in our billing system, so an incorrect, higher rate was charged to the residents," Fosshage said. "The clerical error was discovered and corrected for the next month's billing cycle, and we credited back all overcharged amounts on each and every account. There were no further billing errors in future months."
Fosshage added that residents pay on average $21.51 per month for utilities and that Impact Communities has "actually taken a loss on water of about 70% billed versus the total amount in water charges that we have to pay the utility provider for water."
Complaints in Davenport
Seven years ago, when Alondra Paredes bought her first mobile home, the American Dream was attainable because it was affordable. The trailer cost $10,000. Rent for her modest lot in Silver Creek was manageable.
Paredes is a Mexican immigrant who came to the United States fleeing violence. Now she has two children and supports them as a waitress. She takes her responsibilities seriously. She sends her kids to school every day. She doesn't smoke or do drugs. Before the COVID-19 pandemic, she regularly worked more than 60 hours each week. That's in addition to intensive English classes she's enrolled in, which have helped her become fluent. She hardly has time to see friends, let alone shop for groceries.
"My life is work," she said. "We came here to build a future, to build a good life—the life our country didn't give us. We work to be a part of this community."
Silver Creek was her first shot at homeownership. But now Paredes says Silver Creek management won't fix routine maintenance issues, including street parking and potholes. Her costs of living, meanwhile, are climbing. She said her lot rental, water and sewer costs are rising far faster than her income.
"It's a very big deal for me because I tried to do my best," Paredes said. "I tried to be on my own. I tried to be happy. How can I be happy when you put all these things together? It's a really big mess."
Janet Tracey has lived in Silver Creek since 2011. Over that time, her living costs have risen, even as the community has started "to look terrible," she said. Over the last nine years, her lot rent has risen 34%, she said. That's more than double the rate of inflation.
"I don't mind paying rent increases if it's for a good reason," she said. "But where is the extra money I'm giving you going?"
Her problems with the community include the potholes, uncollected waste and garbage lying in the open, what she described as a series of unresponsive managers and neighbors she said were using and selling drugs without consequences.
Tracey, who's had a double lung transplant and who takes care of her daughter, has taken it upon herself to clean up parts of the neighborhood—sometimes climbing hills and carrying garbage long distances in order to look after her environs.
But her patience is running thin, and she's considering getting out.
"The more things happen, the more I'm going to go."
'A highly profitable business model with devastating effects'
People who live in mobile home often struggle to make end's meet. But trailer park ownership is considered a highly lucrative niche within the real estate world. Land owners often live out-of-state, or even on the other side of the world.
Over the last decade, mobile home parks have been a reliable investment for large real estate, private equity and institutional investing firms worth millions or even billions of dollars.
So long as people need a place to live, investors will seek opportunities to invest in real estate and housing. But over the last decade, investors have increasingly turned from apartments — where prices are rising and the returns are lower — to mobile home parks where returns are higher, said Michael Carey, senior director at Altus Group, a real estate services and software firm.
"The MHP [manufactured home park] market is highly fragmented, and many parks are owned by 'mom and pop' operators," Carey said, "but some private equity and investor firms find MHP ownership attractive because they can scale up by adding hundreds of sites quickly by focusing on select markets."
He added: "By not owning the actual homes, the park owner is not responsible for the maintenance and repairs of the structures. Therefore, there are lower costs and less management, which is appealing to large investors. The owners are responsible for infrastructure, grounds and utilities."
In February 2019, a coalition of advocacy groups including the Private Equity Stakeholder Project, MH Action and Americans for Financial Reform released the report "Private Equity Giants Converge on Manufactured Homes."
"When community owners raise the lot rents, residents are trapped, choosing between paying rent and abandoning their home," the report said. "This structure makes manufactured home communities a very stable source of revenue for investors, including during economic downturns, and makes residents vulnerable to exploitation.
"Real estate investment groups seized on this vulnerability and built a highly profitable business model with devastating effects on low-income seniors and families."
The report singled out YES Communities as "one of the largest owners of manufactured home communities in the U.S.," with some 200 mobile home communities in 18 states. YES is partially owned by the $440 billion sovereign wealth fund for the Government of Singapore, the $56 billion Pennsylvania Public School Employees Retirement System (PSERS) and San Francisco-based Stockbridge Capital, which manages $13 billion in assets.
According to a 2018 memo from PSERS, YES owns more than a dozen mobile home communities in Iowa, or about 9% of its total portfolio. In October 2017, YES's average home site rental was $415 per month, an increase of 4.0% from year before, according to the memo. That's about double the rate of inflation over that time.
The memo noted that "manufactured home community cash flows have been shown to be highly resilient, even during economic downturns."
Impact MHC Management, the Colorado-based firm that owns Muscatine's Park Plaza, has been accused of spiking lot rents by more than 50% over two years in one mobile home park near Dubuque.
At Park Plaza, Fosshage said Impact has already invested $48,000 in road repairs and $20,000 in blight removal, and another $30,000 will be spent this month to remove old dilapidated homes. "We have also brought in several newer homes and plan on moving in several brand new mobile homes," he said. "For those reasons, there has been a small increase in rent for residents within the community."
Some residents of mobile home parks in eastern Iowa said they feel trapped — stuck in unwanted circumstances with nowhere to go. Mobile homes are too expensive or fragile for many occupants to move. And even if they could move, it's not clear where the home can be relocated.
Mobile home park owners have "an unfair advantage — the ability to completely avoid free competition and operate in an environment free of competitive forces," wrote Frank Rolfe, a mobile home park investor and co-founder of Manufactured Home University, a crash course on mobile home park investing he launched with business partner Dave Reynolds, the head of Impact Communities.
One of the "unfair advantages," wrote Rolfe, involves park owners taking over mobile homes when their occupant doesn't pay the lot rent. When rent isn't paid, the trailer owner often cannot afford to relocate their mobile home, so they abandon the property. The park owner, in turn, can take over the home through abandoned property laws.
"Sure, it sounds unfair. But there's nothing illegal about it," Rolfe wrote. "It's no different than the self-storage center owner selling the tenant's contents for unpaid rent — except for the fact that the home is wor[th] about 100 times more than the usual self-storage contents."
Rolfe added: "If you like having a monopoly, holding all the cards, knowing the tenants won't move their homes out, never worrying about someone building a new property near you and taking one of the tenant's biggest assets if they default, then you're going to love mobile home parks.
"That's why mobile home parks have the highest returns on investment of all categories of commercial real estate."
Iowa legislature paying attention
In the winter, before suspending its session due to the coronavirus pandemic, the Iowa legislature was debating a bill that would have boosted protections for mobile home occupants. The bill included restrictions on steep rent hikes, requiring park owners to have just cause to evict a tenant and instituting a 180-days-notice policy for rent increases.
The bill had broad bipartisan support, but it was killed by Republican legislators concerned "price controls" would unintentionally dry up the supply of mobile home housing.
One of the bill's champions was Zach Wahls, a Democratic state senator from Coralville.
"What we're seeing is a significant investment from out-of-state companies who see Iowans not as neighbors but as numbers," Wahls said. "They don't see affordable housing. They see an investment opportunity."
The bill was also supported by Mark Lofgren, a Republican state senator from Muscatine, who said he was "very disappointed" the legislation died. He called it a bipartisan issue.
"I'm a free market person," Lofgren said. "But more than anything, it's important to be reasonable." He was troubled by the water metering issue at Park Plaza and said some mobile home park owners are "playing on the fact that it's not easy to move a mobile home."
"You can't just go in and jack everything up. There needs to be a rationale behind that," Lofgren said. "It appears we're getting some firms whose motivations are not the interests of our communities."
Federal lawmakers are concerned about the issue as well. Recently U.S. Rep. Abby Finkenauer, an Iowa Democrat, sent a second letter to the Federal Trade Commission calling for an investigation into "the predatory and unfair business practices" allegedly occurring at the mobile home park owned by Impact near Dubuque. 
But residents of some parks aren't waiting around for the law to change. In Park Plaza, some residents have organized an informal tenants group to discuss community problems and possible solutions. Their meetings, like much of the rest of society, has been paused by the COVID-19 crisis. The pandemic is yet another challenge for residents of trailer parks as the health crisis disproportionately imperils the working class and low-income Americans.
Mobile home residents are getting used to defending themselves.
"Our community is single parents, some immigrants, some veterans, some disabled. You're talking about the most vulnerable in society," Smith said. "And they've chosen to pick on those people. It's just gross."
031320-mobilehomes-05.JPG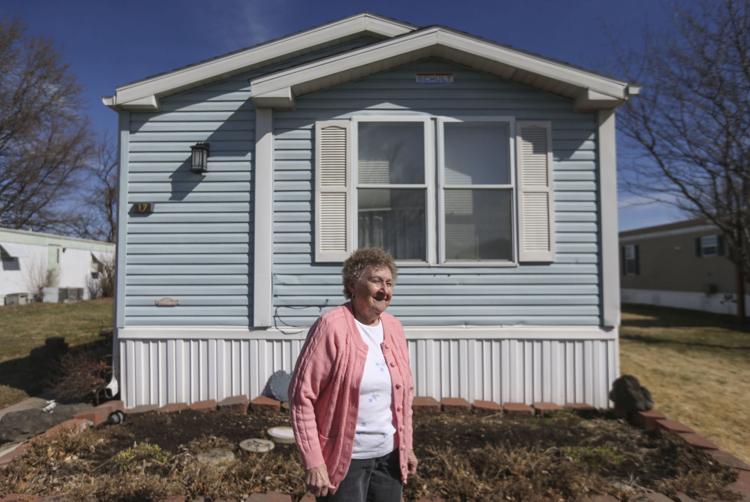 031320-mobilehomes-08.JPG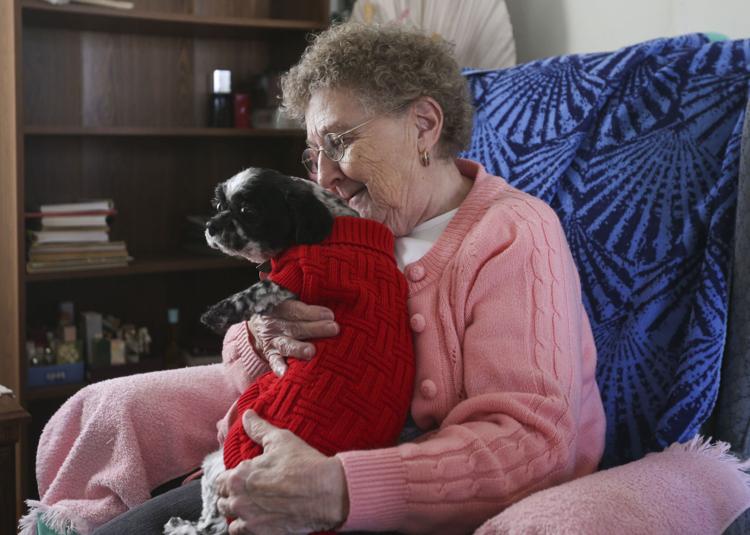 031320-mobilehomes-06.JPG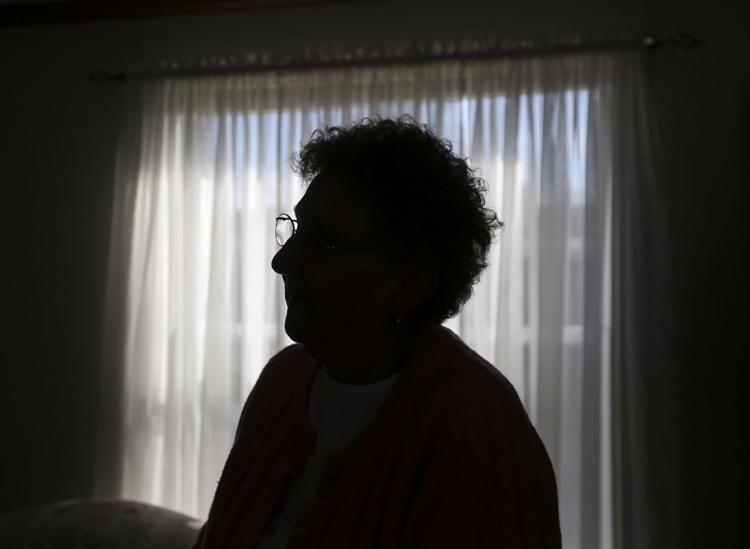 031320-mobilehomes-02.JPG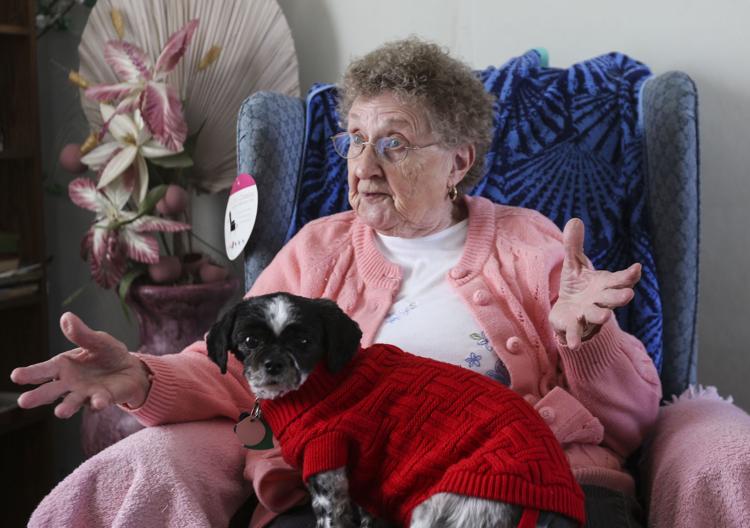 031320-mobilehomes-10.JPG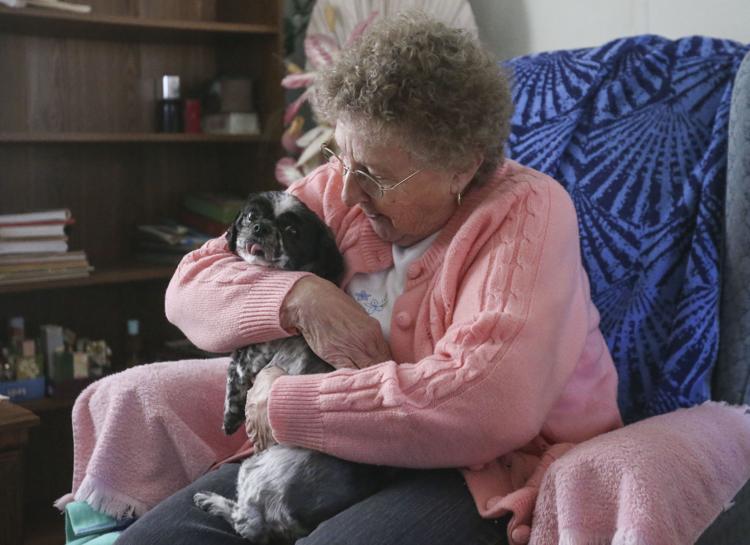 031320-mobilehomes-03.JPG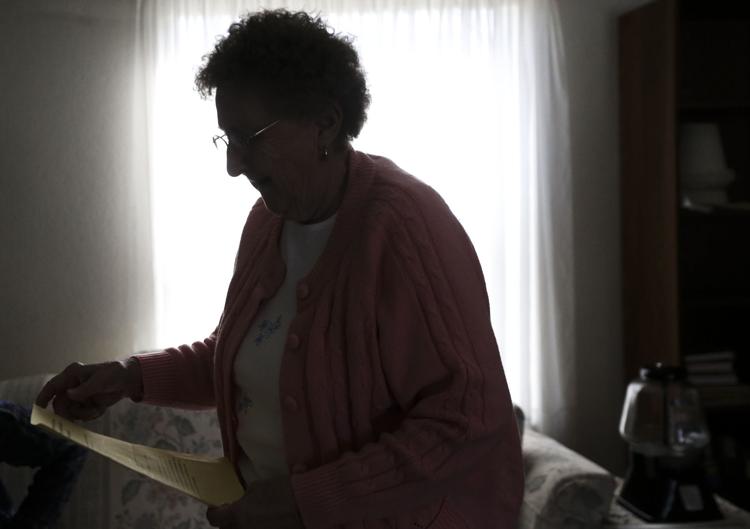 031320-mobilehomes-13.JPG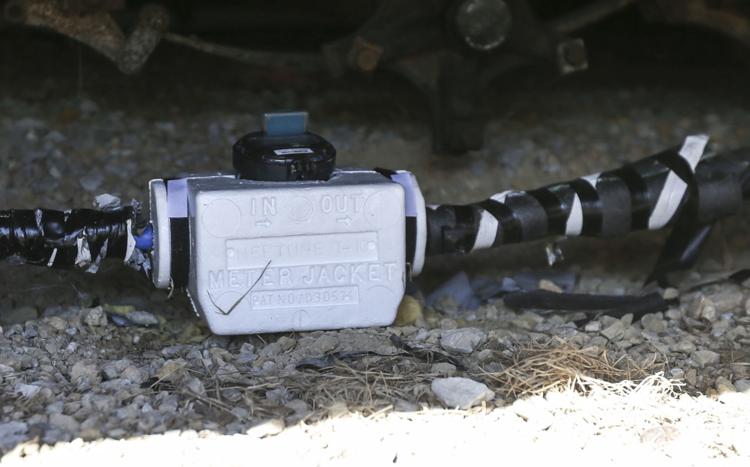 031320-mobilehomes-07.JPG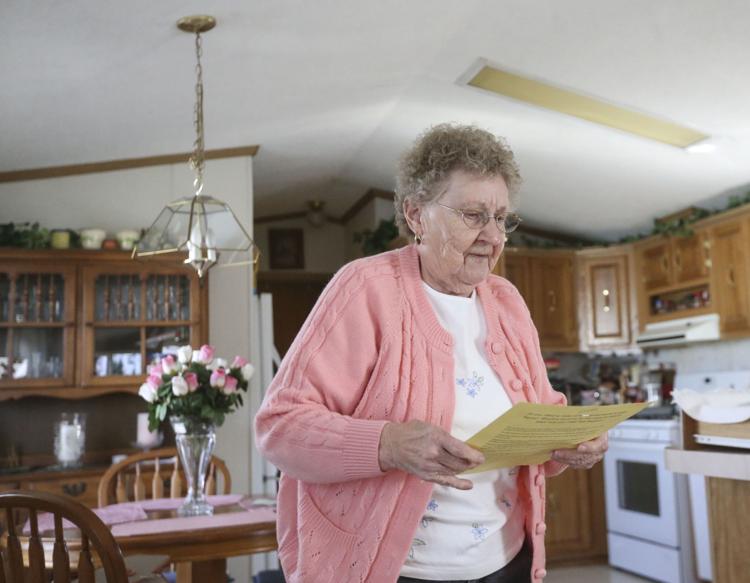 031320-mobilehomes-11.JPG
031320-mobilehomes-01.JPG
031320-mobilehomes-12.JPG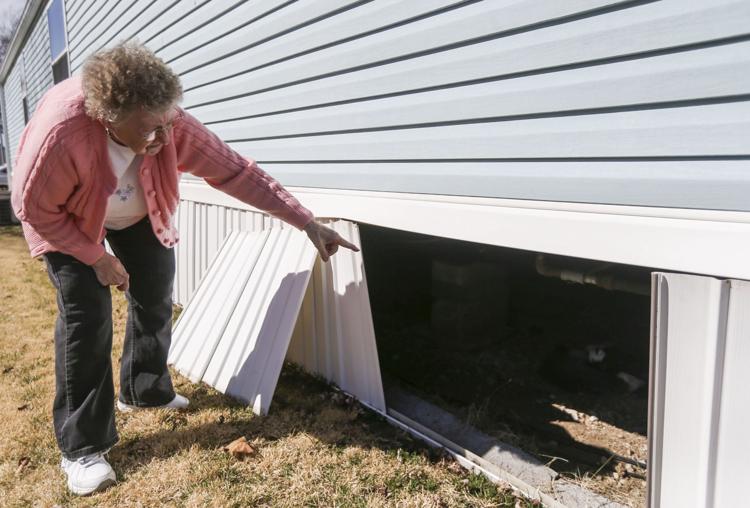 031320-mobilehomes-09.JPG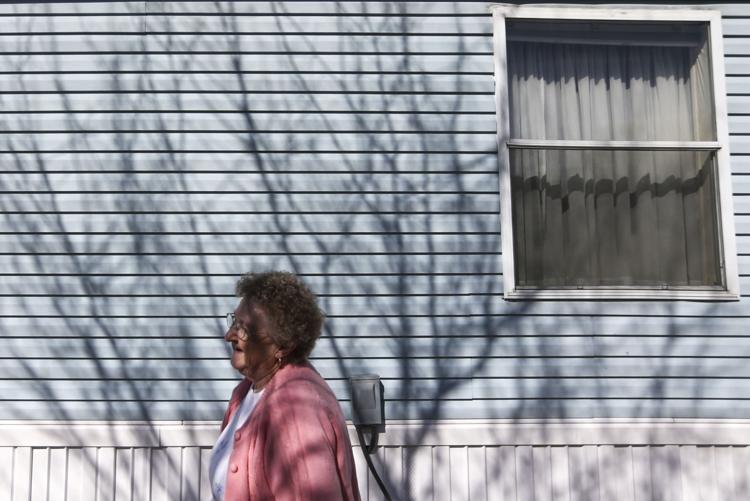 031320-mobilehomes-04.JPG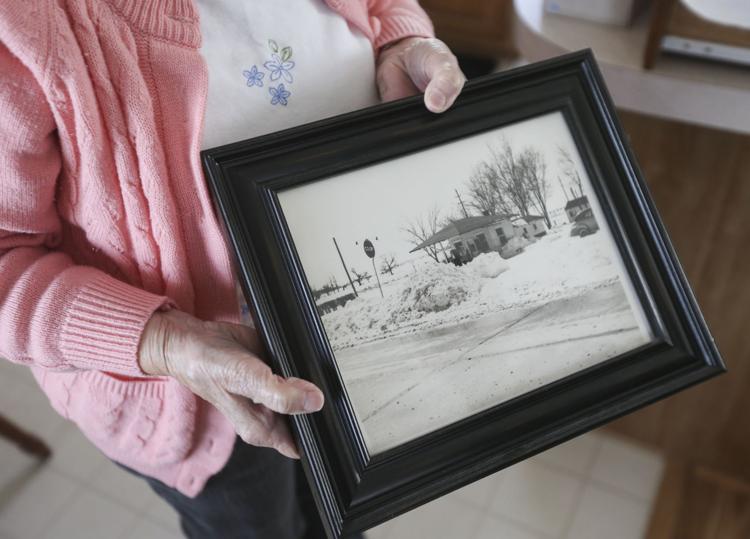 Graham Ambrose is the Iowa politics reporter for the Quad-City Times. 
The business news you need
With a weekly newsletter looking back at local history.