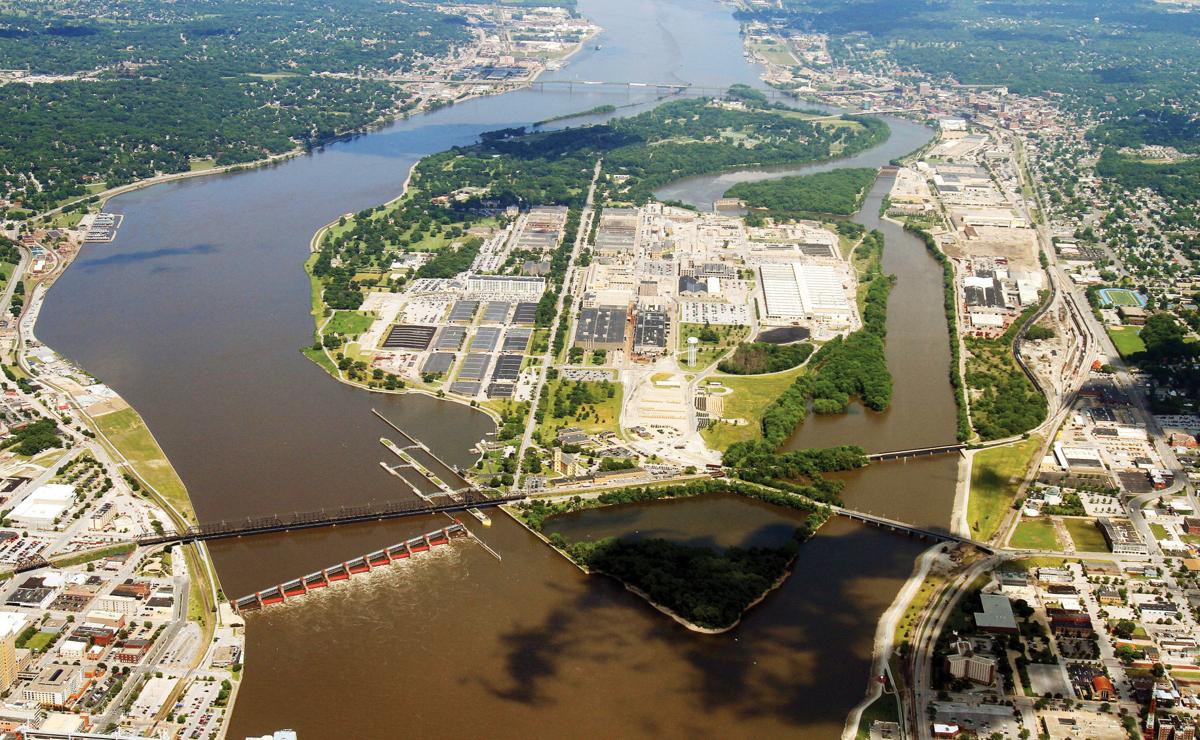 Area leaders gathered Tuesday morning to begin lobbying for a regional authority that could offer a new way to manage and fund large projects that impact both Rock Island and Scott counties.
Paul Rumler, CEO and president of the Quad Cities Chamber of Commerce, launched the effort to form the Quad Cities Regional Metropolitan Authority from the Chamber's Davenport offices. He was accompanied by local business leaders and politicians.
Rumler said the different sectors in the community — private, government and nonprofit — need to pull together "to make that difference and that's why now is the right time … we need this next piece to take us to the next level."
"Oftentimes cities plan individually, organizations plan individually and what we're trying to do is allow a mechanism to be created that we can start to plan and dream collectively and then to be able to bring the funds together to implement them. That I think is a game-changer for the Quad-Cities region," he said.
The Metro Authority would operate as a bi-state government authority, "allowing for clear regional collaboration, which will help achieve the goals outlined in Q2030," a Chamber news release said. Q2030 is the Chamber's regional community and economic development plan that seeks to have the Quad-Cities do more as one region, rather than five individual cities.
If approved, the authority would pursue outside funding revenues from federal and state grants, and private money. They also could bring forth a referendum for a new tax in Rock Island and Scott counties. 
You have free articles remaining.
Its work would focus on six areas: riverfront development, including flood mitigation; regional planning and economic development; transportation and infrastructure; cultural and recreational amenities; education; and natural resources.
Some legislative work needs to occur before selecting board members from communities on both sides of the river. Identical bills would need to pass both states' legislatures, get U.S. Congress approval and ultimately the signature of the U.S. President.
That happened years ago, in the late 1980s and early 1990s, but the lack of a voter referendum, because it was beginning with a local tax, meant the local governing body never materialized.
Rumler said the difference between now and the previous effort is the community buy-in, pointing to Q2030, and that the effort is not starting out proposing a tax increase. That idea would only be pursued if the governing metro authority board were to take that before voters in Rock Island and Scott counties.
He said it was realistic to think the plan could pass the president's desk by the end of 2021, but the hope is that it could be accomplished this year.
Rock Island Mayor Mike Thoms was among the attendees who weren't involved in the previous effort. Being able to have more funding, and pursue projects as a region, could help each individual entity's budget, he said.
Thee new entity would "be able to tackle those big projects that can only be dreamed about and can now become reality," he said.