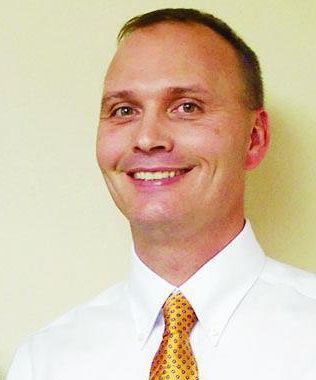 KEWANEE — People's National Bank of Kewanee is finishing up a $350,000 investment in solar panels for its main location in Kewanee and branches in Annawan, Sheffield, Manlius and Bradford.
Randy Carton, vice president of risk management/cashier for the bank, said solar installations are up and running at the four branch offices with completion of the Kewanee installation expected by the end of the year.
"They are installed and turned on and currently provide 100 percent of our electrical consumption if the calculations are right," Carton said.
He said there is still a line usage charge the bank will continue to be billed for, but the rest of the bill depends on how much energy the solar panels produce.
"They look at a 12-month period and kind of let it average out," he said. "Some months they produce more, some months they use more. The bulk of the bill will be reduced because it's based on consumption."
Carton said the bank is estimating a payback period of less than five years on the $350,000 investment after a federal tax credit which, he said, made the solar decision "pretty easy."
The bank contracted with Illinois Solar of Hillsboro, which also informed the bank how it could buy energy-efficient light bulbs at a reduced rate to help further reduce usage costs.
"We started this discussion at the beginning of the year, and provided the company with all our utility bills," Carton said.
"We want to become more efficient. We're in the process of replacing the majority of our lighting at our branches to be on a efficient system," he said Carton. "We've done three and we're starting on the fourth."
The bank has a maintenance contract with Illinois Solar. The solar panels have an estimated lifespan of more than 20 years.
"We have every intention of keeping them well past 20 years, but I guess efficiency starts to go down," said Carton. "In theory, they should withstand hail the size of golf balls. They seem to be extremely durable."
Solar panels at Bradford, Manlius and Annawan are mounted on the ground. Setback requirements near the railroad tracks in Sheffield prompted solar panels there to be half on the ground and half mounted on the building's roof.
Kewanee's panels will all be roof-mounted. People's National Bank is reviewing solar plans for a second Kewanee location as well as branches in Dwight and Seneca.
"We possibly might do the other three in the year 2019," said Carton. "We can't put them on the ground, and the way the buildings are laid out it's not conducive to roof-mount, but we might figure out a way to mount them on the roof."
The business news you need
With a weekly newsletter looking back at local history.