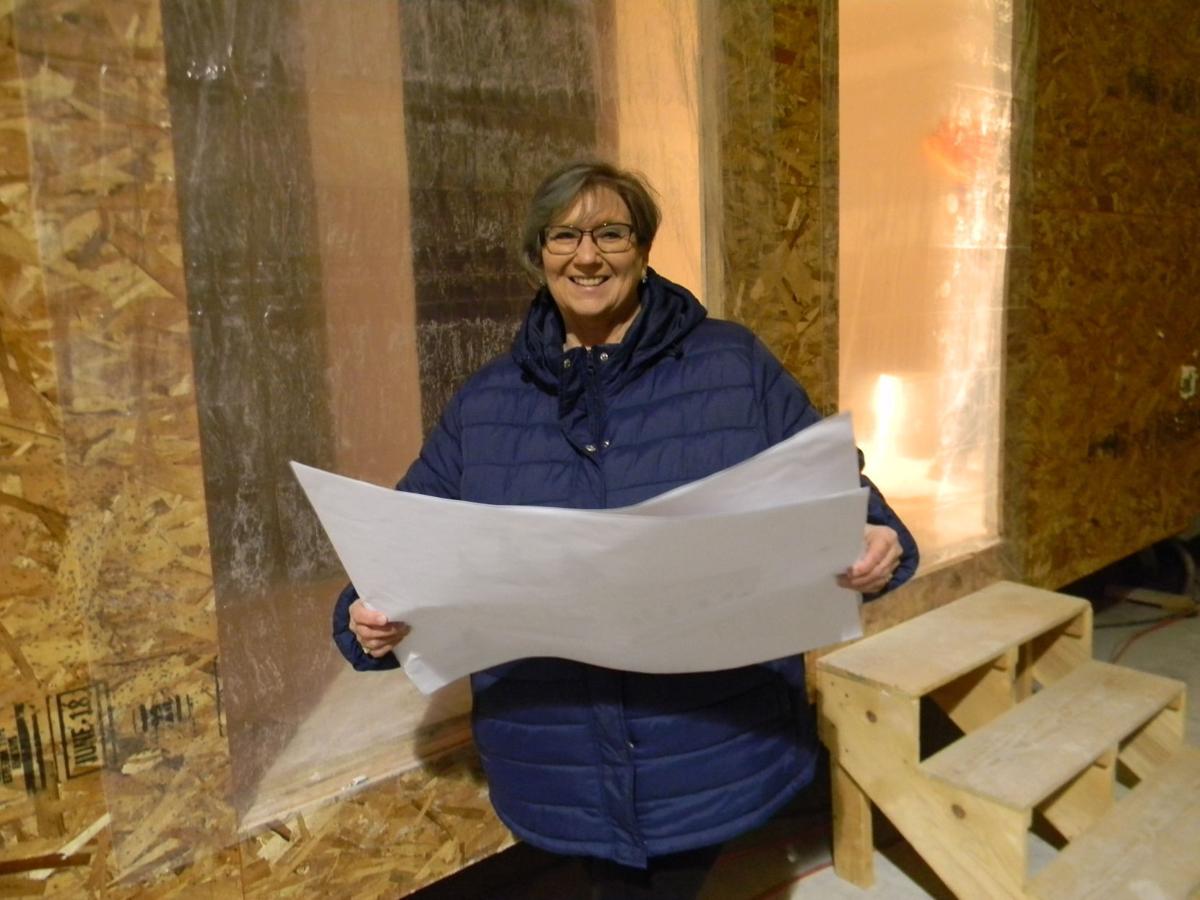 CAMBRIDGE — One Thursday afternoon last summer, Kimberly Moriarity of CSI Homes got a telephone call from a man making an initial inquiry about the business.
He arranged to meet with her that Saturday. On Sunday, he returned with his sons. By Monday, he had chosen a design for the home and, by Tuesday he had signed a contract.
That's a rarity for CSI, which sometimes works with people for years before they choose a home.
"But if you think about it, it's not a snap decision that you make," she said. "And that's how you build up the rapport."
Moriarity said the man in her story was downsizing from a larger home after his wife died. She said he had some decor questions she wasn't prepared to answer and suggested, instead, that he talk to his daughter.
"I said, 'I don't think you're going to ask me to move in, so I shouldn't pick it out,'" she said.
CSI builds modular homes in its Cambridge factory. A project generally takes three to four months, from when building begins to when the home is set on its foundation. It then takes another five to six weeks to have the utilities hooked up, add siding and build a garage, porch and deck.
"Truly most homeowners wait longer to get power than they do on us to get the home finished," Moriarity said.
She said that setting a home always draws a crowd as a crane maneuvers the slings that go around the modules of a house.
"The first set my dad (Gale Casteel) took me to was a party with people there with coolers, so it can be anywhere from like two people to a party," she said. She noted the home's roof gets raised and the building is weather-tight the very first day.
Some clients' documentation of their home starts with walk-throughs at the factory. Others keep tabs on their homes' progress through Moriarity.
"My cell phone is crazy with pictures," she said.
Casteel started CSI Manufacturing in 1974. It was an agricultural construction firm at the outset, working on beef and hog confinement buildings, even milking parlors. But the farming downturn of the late 1970s and 1980s caused CSI to branch out into residential construction.
"Just because he had been very conservative, he was able to survive," Moriarity said. "But it was tough.
"My dad was a visionary," she said. "I think he was always thinking and always a little bit ahead, and I don't think he worried about the other competitors, the other modular companies."
Modular construction was very well received on the East Coast, she said, but locally her father had to combat the mistaken concept that the product was a mobile home. The financial climate in the early years was not conducive to selling homes.
"Interest rates were in the 17 percent range. It was terrible," she said. "So our company had an apartment in the Chicago suburbs and we worked Crystal Lake, Lake of the Hills; that area was where all our business was. They would go up on Monday and come home on Friday," she said.
"I remember one of our first modular homes we built was for Dave and Debbie Johnson here in Cambridge," she said. "And they're still living in it."
Then, as they are today, the homes were built with 2-by-10-foot floor joists and 2-by-6-foot exterior walls, all 16 inches on center. The homes include oak, not laminate, woodwork along with Pella windows, Aristocraft cabinetry and Delta faucets. Solid-core, six-panel doors are standard.
"Dad always said he wanted to start out at a quality product so that they can see what they're going to get," Moriarity said. Other firms producing homes, she said, tended to be more "cookie-cutter."
CSI catered to the client, she said. "This way people can make the home their own."
From an early age, Moriarity cleaned the offices and answered the phones on Saturdays. After college, she began staining and varnishing woodwork. She also began drawing blueprints and doing design work with the late Leon Wall of Orion.
After her father died in early 2015, she took on the sales work for the business.
"There are 30 people that are depending on you to feed their families," she said. "It's kind of — a little bit frightening at times."
You have free articles remaining.
Her brothers, Derek and David, are in charge of the factory and the road work. Another brother, Kevin, who was also in charge of the factory, died in 2009.
The majority of CSI's work is residential. Their commercial projects include an apartment complex in Pella, Iowa; an assisted living complex in Delavan, Wis.; a dormitory for Sauk Valley Community College in Dixon; and a daycare facility for Scott County Community College.
Sometimes, she said, it's a past contact that brings new work. They're now working with someone in Texas from whom they used to buy doors and trim; he's looking at selling two-story condos they would ship. 
"We have people that we built repeat homes for," she said. "They're downsizing now."
Clients also can come from far outside of Henry County. A man and his son, in New York and Colorado, respectively, decided to buy a hunting property halfway between them. They bought in the Canton area and had CSI build a cabin there.
After they decided the first hunting area was too small, they bought a larger tract 15 to 20 miles away — and again had CSI built the same type of cabin.
She said it's infrequent that people pick a home directly off their website. More often, she said, they have a change that might tweak the whole personality of the house.
"A lot of people appreciate that we're a family business, and a lot of them become like family," she said.
Moriarity said she worked with one man for five years before ever meeting his wife. It was then two years, she said, "before we actually had her convinced to leave the home she brought her babies home to.
"For four years, we talked every day on the phone," he said. "Now, we probably talk once a month. They've probably been in their home eight or nine years now."
Moriarity said modular home owners benefited in the structures going up relatively fast and helping them avoid a mortgage extension and higher interest rates. People looking for a $100,000 home, however, will be disappointed, she said; cabins start at $170,000 
"We have some smaller homes under $200,000, in the $170,000 to $180,000 range," she said, noting the average size of the CSI homes is 1,800 to 2,000 square feet. "It's really hard to get into a home for $150,000, to tell you the truth."
The majority of the cost of the house, she said, is in the materials.
"We buy lumber by the truckload," she said. "Siding, shingles has been very volatile — even the cost to bring the materials in, the fuel surcharge. Then there's the cost of materials from China, and we don't know what it's going to be, so it's hard to plan and predict.
"The cabins are labor-intensive," she said. "They cost more per square foot than a home does, with all the wood and the floors."
Moriarity said CSI started offering cabins after her parents bought property with a small pond outside Cambridge. They put in a big lake, and the cabin they built for it became the prototype for the company's commercial offering.
"They loved to fish and hunt together, she said. "By having it near to town they could go out there seven days a week."
CSI offers a one-room, 414-square-foot "shack" for $40,000, Moriarity said. Some people interested in the "tiny home" trend, she said, have considered the structure.
"They look at it and are like, 'Oh, I can't live in this' and they're like 'Oh, too small,'" she said.
CSI has sold six "shacks" to a Colorado outfitter interested in the fact that they're mobile and can be relocated to different mountain locations where people want to hunt. The firm has sold homes, mostly ranch style, in Illinois, Iowa, South Dakota, Arkansas, Missouri, Indiana and Wisconsin. 
"I think, for the most part, people want ranches," Moriarity said. "They're thinking about their forever homes. They're thinking about being able to stay where they're at."
The homes are well-insulated, with standard R-21 sidewalls and R-38 ceilings. Moriarity said that, more often now, many areas they go into require R-49 ceilings.
"You have to do your homework," she said.
Moriarity recalled a woman client surprised that she didn't have to select a bathtub or lighting, seeing it was delivered midway through the process. With modular construction, those decisions are made in advance, she said, and the customer doesn't worry about delivery.
"I think it could be overwhelming for some people," Moriarity said.
While Moriarity's days are filled with home plans, her nights and weekends are for other things. She said she didn't do major projects on her own home.
"My husband and my two sons always said I got my fill of it here, she said with a smile.