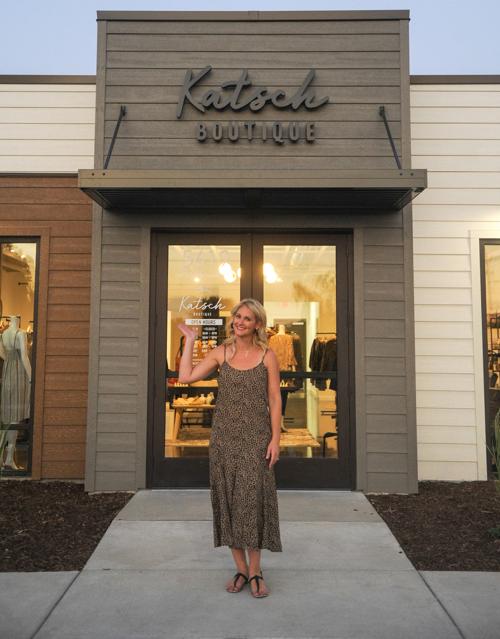 DAVENPORT — Amy DeFauw has opened her second store, Katsch Boutique, in Davenport, just four years after launching her first shop in Geneseo.
The new location is at 5619 Utica Ridge Road, Davenport. Both boutiques feature similar merchandise, ranging from clothing and accessories to footwear.
"Our Davenport location has a similar assortment of clothing, accessories, and footwear as our flagship store," said DeFauw, the former Amy Katschnig. "We are testing the waters with new brands and product categories like UGG Australia, too, if our customer's preferences are different. Regardless, we want to make sure we stay true to our brand."
The young business owner believes in providing wearable, stylish and affordable pieces that make women look and feel their best, she said, and added, "Our shopping experience should solve problems and make our customers' days easier, not harder."
You have free articles remaining.
After opening in 2015 in Geneseo, DeFauw launched an online store, www.shopkatsch.com, in June of 2016, and she said, "We have seen great growth through this as well. Our goal is to ship to every state in the United States, and we only have 10 more to go."
"We've also shipped internationally to Canada, Australia, Germany and a few others which have been really cool," she said.
"We were approached by the building developers and asked to be part of the Utica & 56 building in Davenport," DeFauw said. "I really wasn't looking to open another location. I was very content with the Geneseo location and had my hands full, but it really seemed like too good of an opportunity to pass up. I really loved their vision for the space and thought it would be a great opportunity to better serve my Iowa and QC based customers."
While DeFauw's unique personal style is reflected throughout the stores, the inventory will ultimately be determined by the customer, she said. "The focus on the customer will be visible through the extra things we do, including our Katsch Loyalty Program.
The new location,  is open from 9 a.m. to 6 p.m. Tuesday through Friday and from 9 a.m. to 4 p.m. on Saturday. For more information, call the shop at 563-508-5170. The Geneseo boutique, at 113 North State St., Geneseo, is open from 10 a.m. to 5 p.m. Tuesday through Saturday and from 11 a.m. to 4 p.m. on Sunday. To reach the Geneseo shop, call 309-944-5656.
For more information about Katsch Boutique and its products, visit facebook.com/shopkatsch or Instagram @shop.katsch.