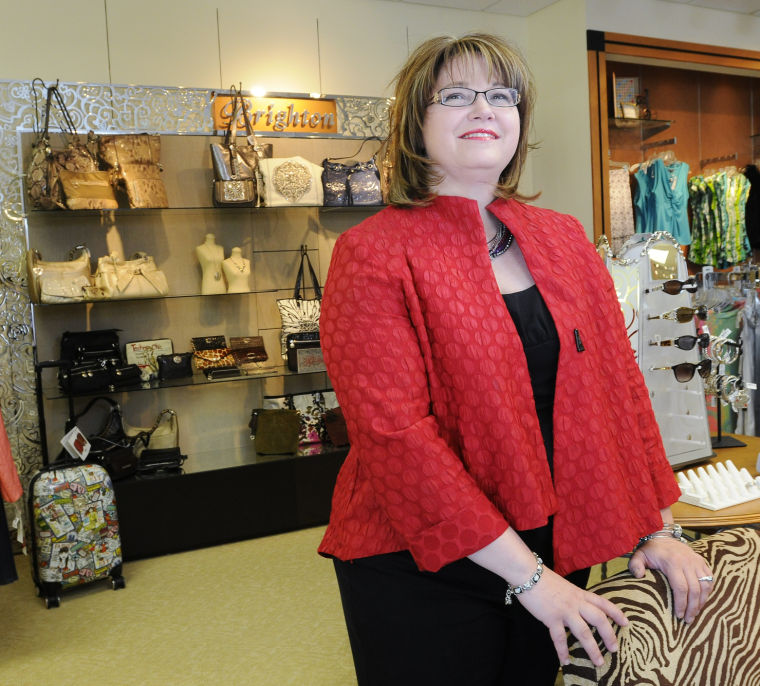 George Kutsunis had no idea how much his company would grow when he opened his first clothing shop half a century ago.
"In 1962, I hadn't planned any of it," said Mr. Kutsunis, who just wanted to start a business on his own.
Geneseo-based Four Seasons now has seven locations in Illinois and Iowa, as well as an online store, and is celebrating 50 years in business.
A block-party event, including store specials and free food, will be held from 9 a.m. to 7 p.m. Friday at Four Seasons in Geneseo, 110 S. State St.
Mr. Kutsunis' daughter, Katie Andrios, now heads GWK Enterprises Inc., although he remains involved.
The foundation for Four Seasons was laid in 1962 when Mr. Kutsunis opened the Merry-Go-Round junior and children's clothing store in downtown Geneseo.
He opened the first Four Seasons in 1970; Leading Lady, a plus-size women's clothing store, in 1976; and Elite Petites in 1978.
Eventually, missy, petite and plus sizes all were wrapped into one store -- the Four Seasons.
The stores found a spokeswoman, known as Sophie, in actress Mary Best, who helped advertise the Geneseo stores outside the community.
"Sophie was kind of a phenomenon here," Ms. Andrios said. "People would come here to get her autograph."
In 1987, Mr. Kutsunis expanded outside of Geneseo for the first time, opening a Four Seasons and Leading Lady in Paul Revere Square in Davenport. Eventually, they were combined in a 12,000-square-foot, free-standing Four Seasons built on Kimberly Road in 1992.
"That's when we really determined the power of having all sizes under one roof," Ms. Andrios said..
Over the years, more locations followed. There now are Four Seasons stores in Princeton and Peoria, Ill, and two in Iowa City and one in Cedar Rapids, on the Iowa side.
Four Seasons has two buyers who select the clothing and accessories.
"They travel to New York City, Los Angeles, Chicago, Las Vegas and Dallas to shop for all sorts of different things," Ms. Andrios said.
Eight years ago, Four Seasons opened an outlet store two doors down from its main Geneseo location.
GWK Enterprises Inc. owns Four Seasons and Pegasus Fine Gifts in Geneseo. Ms. Andrios is the president of GWK Enterprises, which she owns with her brothers Bill and Chris Kutsunis.
You have free articles remaining.
The company has 80 employees, about half of them full-timers. Many are long-time employees, including one who has been with the company for 50 years.
Pegasus, at 117 S. State St., is celebrating 20 years in business this year. Linda Kutsunis, George's wife, started Pegasus in 1992.
She describes it as "a combination of a lot of stores within a store." The shop offers coffee, fudge, Vera Bradley bags, Isabel Blooms, and Christmas items year-round, in addition to many other items.
The family's Geneseo business roots go back even further than Merry-Go-Round, Four Seasons and Pegasus.
In 1912, Mr. Kutsunis' parents immigrated from Greece to the United States and opened a shoe repair shop on the same street where Four Seasons got its start.
"My family has been represented on this street with a store for 100 years," Ms. Andrios said.
Mrs. Kutsunis said 2012 is about celebrating "100 years, 50 years, and 20 years. That's quite an achievement."
Instead of opening many stores at once, Four Seasons has opened stores one by one.
Ms. Andrios said the company makes sure each location is established and profitable before moving on to the next one.
The newest store is in the Old Capitol Town Center in Iowa City, which opened in 2011 and sells only junior clothing.
Ms. Andrios would like to see the company open more locations.
"I hope to continue to maintain what we have and grow," she said, adding that she's looking for a location and hopes to open a Four Seasons in Moline by the end of the year.
Four Seasons 50th Anniversary Celebration
What: A block party celebrating Four Seasons turning 50
When: Friday, May 18, from 9 a.m. to 7 p.m.
Where: Downtown Geneseo, in the Four Seasons' block. The store is at 110 S. State St., Geneseo.
The event includes: Free lunch and cake; a free gift with every purchase; buy one item, get the second half off specials; more than 200 door prizes; and a free 32-page commemorative book on the company's history.