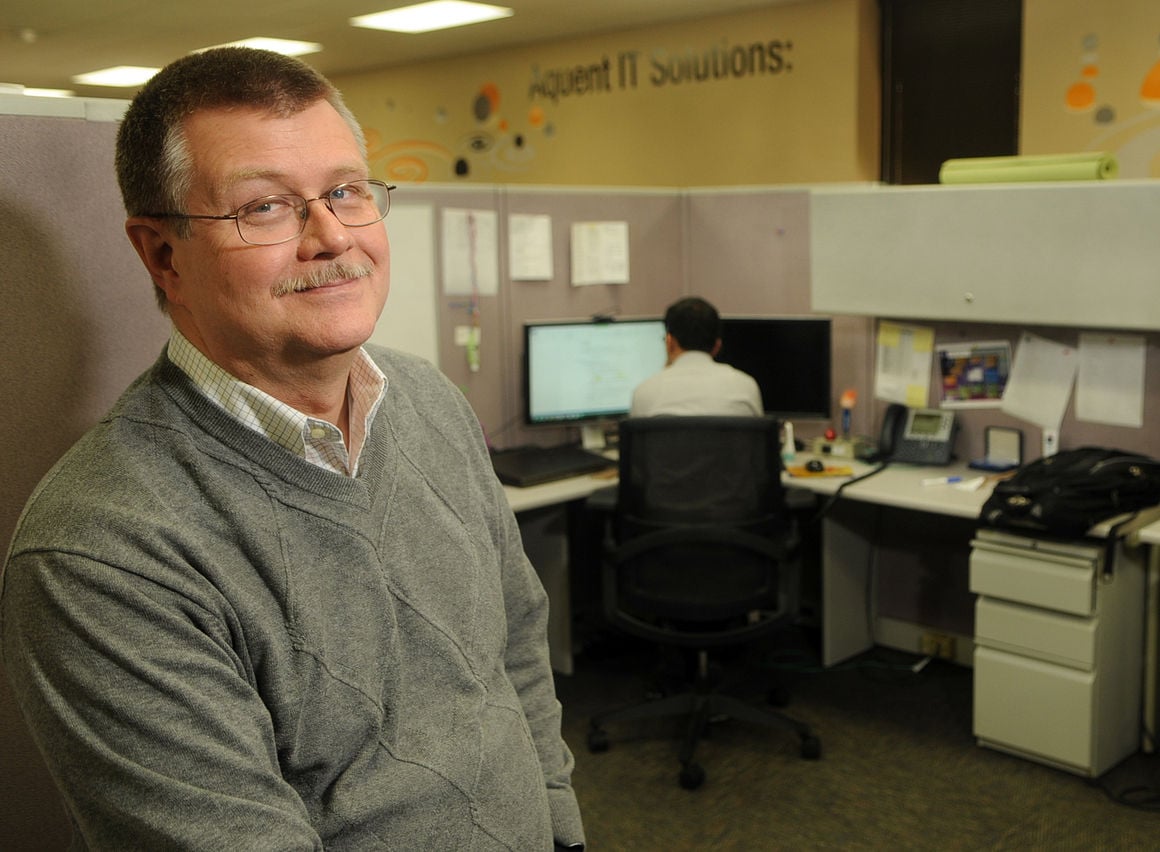 EAST MOLINE — Dan Neff and employees at Aquent IT Solutions are solving information technology problems for companies that include 90 percent of the Fortune 100. 
Inside the office building at 3100 4th Ave., in the city's Industrial Park, employees design Web-based applications and software for companies such as Disney, Microsoft and General Motors, said Mr. Neff, who has been president of the local Aquent site for 19 years. 
Working with such corporate giants means the stakes are high in an industry that has a more than 30 percent failure rate for large software projects, he said. "If you're always going to do what you say you're going to do, be careful what you say."
Mr. Neff began his career as an engineer for Deere & Company. In the early 1990s, a coworker showed him the Mosaic web browser, which first popularized the World Wide Web, and he said he knew he wanted to make a career out of the new and exciting technology. 
"Right away, I started looking at how I can shift my career to align with this kind of explosion on the Internet that seemed apparent that it was coming," Mr. Neff said. 
Shamrock Computer Resources opened the company in 1996 in Moline because of the proximity to John Deere sites. Mr. Neff said he knew Deere had great demand for high-caliber information technology talent. Although his company's work is Internet-based, he said selling his products and services works best face to face.
"When we launched our business here, it was because John Deere is right over there," Mr. Neff said. "They were our first and best customer and got us going."
Shamrock Computer Resources sold the company to Renaissance Worldwide in 1997, and Aquent bought it in 2001. 
You have free articles remaining.
Boston-based Aquent has more than 40 offices in seven countries and several thousand employees. Mr. Neff said the Aquent branch of the company has about 150 employees in East Moline and Bangalore, India. 
Aquent added 36 employees last year and is looking to add 30 to 40 more this year, Mr. Neff said, adding that he has drawn talent from places such as New York City and the San Francisco bay area, a feat others in the industry told him never would happen.
"People say, 'The bay area, it's this big, hot software mecca out there on the west coast. You can't pull people from there.' But we've done that, and they've come here and liked it and fit in and they stay.
"We get people out of the rat race and down here where you can have a decent life, so to speak."
IT professionals right out of college typically aren't ready to settle down in a place like the Quad-Cities, Mr. Neff said. So, Aquent goes after employees who have been in the industry for a few years.
"There's a certain type of person attracted to this type of location, someone further along in career, thinking about raising a family," he said. "That's where the draw is." 
Mr. Neff said he sees potential for the technology industry to grow locally and will continue recruiting nationally and internationally to bring in top talent. 
"We're bringing value to the Quad-Cities in more than just having a local business," he said. "We're bringing in some very intelligent people to join our population and to be here and help us grow."