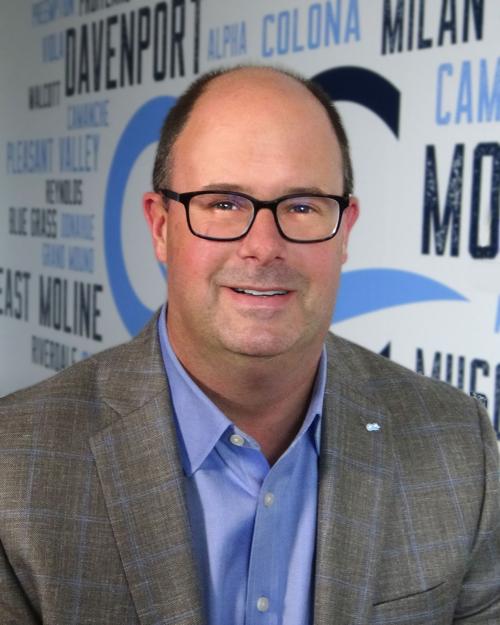 Visit Quad Cities, the region's official destination management and marketing organization, announced Tuesday during National Travel & Tourism Week the launch of a new texting platform.
Partnering with TapOnIt, Visit Quad Cities continues to expand its digital platform experience to build our brand, share the regional destination's story, and serve as a community resource.
Individuals can go to www.textvisitqc.com to join QC Insiders and receive the latest information about QC events, activities, discounts and more from Visit Quad Cities. People who join the QC Insiders in the first 30 days will be entered into a drawing for a chance to win a Quad Cities getaway including an overnight at The Axis Hotel, attraction passes and restaurant gift cards.
"Visit Quad Cities will continue to invest in emerging technologies that create value for our customers and the visitor economy," said Dave Herrell, president and CEO, Visit Quad Cities. "The TapOnIt team is developing new and exciting opportunities for consumer and brand engagement, and their platform will further add to our marketing and promotional portfolio. We look forward to working with their team as we focus on increasing local brand champions in our regional destination."
Founded by local Quad Cities sisters, Katie Castillo-Wilson and Sara Castillo, TapOnIt started in 2015 with the goal of building a solution that would help businesses drive traffic and sales via text. Quad Citizens know TapOnIt for their program called TapOnIt Deals, which connects those who opt-in to their database with offers from area businesses. However, the TapOnIt Deals platform is only a small part of what TapOnIt does.
"We're really excited to be able to work with Visit Quad Cities to communicate all the Quad Cities has to offer," says Katie Castillo-Wilson, CEO, TapOnIt. "TapOnIt Deals has grown a significant database of people who want offers and promotions from local businesses. But now, Visit Quad Cities has the opportunity to communicate so much more to Quad Citizens and visitors about what is happening in the region. We're thrilled to work together and show the QC the other side of our business here at TapOnIt."
The TapOnIt solution provides organizations the opportunity to grow their own databases using first-party, permission-based data and communicate with them via text. TapOnIt is unique, as it allows brands to send multiple pictures videos, and animated GIFs instead of just black-and-white text. Customers get information from the brands they want to hear from, and brands reach the people who are interested in engaging with them.
Bettendorf Health Care Center to host job fair
Bettendorf Health Care Center will host a job fair from 11 a.m. to 2 p.m. Tuesday, May 11. Job seekers are invited for interviews and a free lunch.
There are number of job openings for qualified candidates, including:
• CNA with restorative certification; $3,000 sign-on bonus
• CNA; $3,000 sign-on bonus
• RN/LPN; $3,000 sign-on bonus
Candidates are invited to bring their resume and be ready to interview. A barbecue lunch will be served.
Ridgecrest Village plans fundraiser Tuesday
The Ridgecrest Foundation will present "Together We Care Event" from 11 a.m. to close on Tuesday, May 11, at Applebee's on Elmore Avenue in Davenport. The event is open to the public all day.
For any items selected off the specialty menu, a portion of the proceeds will benefit the Ridgecrest Foundation.
The Ridgecrest Foundation will then use the overall proceeds to boost their Life Enrichment Projects. Last year the Foundation raised over $27,000 and was able to purchase two wheelchair bikes for the residents at Ridgecrest Village. Since then, some of the Life Enrichment Projects that are being considered include a putting green, golf carts for visitors, sensory rooms, enhanced health area.
If you have any questions or would like to know more about this event of the other events of the Ridgecrest Foundation, please contact, Carrie Dreifurst, development director. She can be contacted at: cell (239) 839-5024, office (563) 388-3431 or email at: cdreifurst@ridgecrestvillage.org.
New Kingdom Trailriders set spring fundraiser 
New Kingdom Trailriders will hold its spring fundraising event — "The Inaugural Hot Rods for Horses Car Show & Craft/Vendor Fair" — on Saturday, May 15, in Sherrard.
Activities at the organization's barn include food trucks, a "Vendor Passport" game with vendor-stuffed prize baskets, a 50/50 raffle and lots of shopping. You also can get up close with a mini-horse and pet one or take a selfie with it.
The event is free to the public.
New Kingdom Trailriders is an equine-assisted therapeutic nonprofit that provides therapeutic horseback riding lessons to Quad-Citians over the age of 4 who struggle with mental, physical and socio-emotional issues.