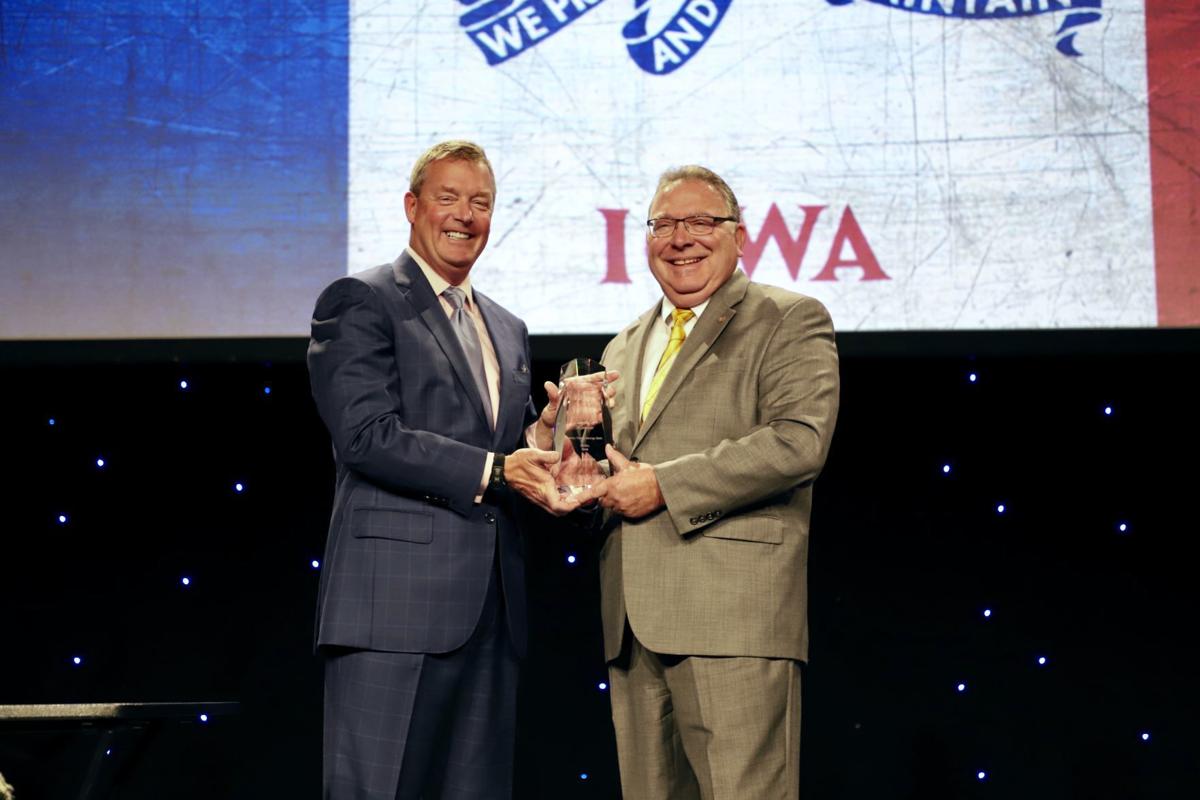 Ron Hansen, of Durant, Iowa, has received a top honor from the Iowa Bankers Association. Hansen, who recently completed his term as superintendent of the Iowa Division of Banking, was honored last week with the James A. Leach Leadership Award at the IBA's annual convention.
Created in the name of former U.S. Rep. Jim Leach (R-IA), the award recognizes a distinguished Iowa banker who has made "significant, lifelong contributions to how Iowa banks serve Iowa communities."
"I'd be hard pressed to come up with an Iowan who has done more for our industry," said John Sorensen, president and CEO of the Iowa Bankers Association, in a release. "From community banker, to advocate, to regulator, Ron Hansen has earned the respect and admiration of his peers."
Hansen is a third-generation community banker. After beginning his career in California, he returned to Durant in 1975 and began working full time at Liberty Trust & Savings Bank. He later became its CEO and chairman.
He has also served in various community roles, including the Durant Chamber of Commerce and the Durant Community School District.
Quad City Federation of Labor to host

28th Annual AFL-CIO Hall of Fame Banquet
The Quad City Federation of Labor will host its annual banquet at 6 p.m. Friday, Oct. 4, in downtown Davenport. The event is sold out and expects 450 guests.
The 28th-annual banquet is at the Radisson Quad City Plaza Hotel, in Davenport. After a cocktail hour, the program will honor local labor leaders for their service with inductions into the regional AFL-CIO Hall of Fame.
You have free articles remaining.
Brenda Quinlan, a member of NALC Branch 506, will receive the annual John White Community Service Award, presented annually to a union member who has been an outstanding advocate for the mission of the United Way and the AFL-CIO in the Quad Cities.
The banquet will feature speeches from U.S. Rep. Cheri Bustos (D-IL) and Rep. Abby Finkenauer (D-IA).
50th Honor Flight of the QCs
set for takeoff
The 50th Honor Flight of the Quad Cities will take off from the Quad Cities International Airport on Oct. 31. Once in Washington, D.C., veterans and guardians will tour war memorials where their service has been honored.
Since its founding 10 years ago, Honor Flight of the Quad Cities has allowed almost 5,000 veterans to visit memorials. The 50th Honor Flight is sponsored by Ridgecrest Village, a nonprofit retirement community in Davenport. Ridgecrest Village donates office space, equipment, supplies, support and volunteers to the program.
Local banking firm recognized with award
QCR Holdings, Inc., has been named a member of the Sandler O'Neill+ Partner Sm-All Stars: Class of 2019. The award recognized 30 top-performing small-cap banks and thrifts across the country.
Headquartered in Moline, QCR Holdings has 27 locations in Illinois, Iowa, Wisconsin and Missouri and around $5.2 billion in assets. Quad City Bank & Trust Company, based in Bettendorf, opened in 1994.
Sandler O'Neill is an investment bank and broker-dealer.
"We are honored to be recognized as a 2019 Sm-All Star by Sandler O'Neill," said CEO Larry J. Helling. "Our inclusion on this list reflects our focus on being a high performing organization that delivers value for our clients and superior results for our shareholders."
The business news you need
With a weekly newsletter looking back at local history.