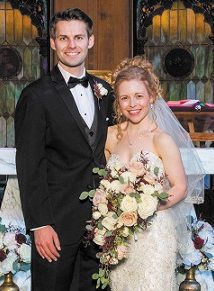 Kristin DeSutter and Andrew Stawarz were wed on Aug. 24, 2019, at St. John's Catholic Church in Woodhull. Father Kevin Feeney of Evanston, Father Mark DeSutter of Moline (cousin of the father of the bride) and Father John Burns of Woodhull, officiated the wedding. Gabriela Seufferheld of Boston, Mass., was the maid of honor, along with five additional bridesmaids. Connor Feeney of Evanston, was the best man, and there were five groomsmen. Andrew and Kristin were married in the same church as the bride's parents, Randy and Suzanne DeSutter, who celebrated their own wedding ceremony there 33 years ago. The reception was held at Hotel Blackhawk in Davenport. For their honeymoon, Andrew and Kristin enjoyed going to Italy.
You have free articles remaining.
Kristin DeSutter, daughter of Randy and Suzanne DeSutter, graduated from the University of Illinois Urbana-Champaign with her bachelor's in agricultural communications and minor in political science. She is employed at G&S Business Communications in Chicago.
Andrew Stawarz, son of Steve and Jean Stawarz, earned his bachelor's in biological engineering from the University of Illinois Urbana-Champaign and received his master's in biomedical engineering from Northwestern University. He is employed at Medline Industries in Northfield.