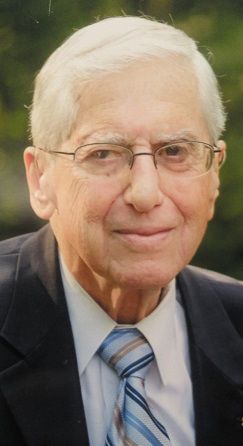 Stanley Coin, Rock Island, will be honored at an open house reception Sunday, Nov. 10, 2019, in observance of his birthday.
Relatives and friends are invited to attend at St. George Greek Orthodox Church, 2930- 31st Ave., Rock Island, from noon until 2 p.m. Lunch will be served.
Mr. Coin was born on Nov. 9, 1929, in Rock Island. He married Kay Bonebrake of Clinton, Iowa, his wife of 61 years, on Sept. 28, 1958.
His children are, Connie and Jim Contes, Tempe, Ariz., Cathy Coin, Chicago, Christine and Randy Smith, Rock Island, and Harry and Paula Coin, Moline. He has four grandchildren, Laura Fix, Nick Brockelman, James Contes, and Madison Smith. He has one great-grandchild, Hudson Perry Fix.
You may know Stan as your RIHS classmate of 1947; as a manager of the family business, Coin Baking Company; as a founder of American Bank & Trust for over a half century; as president of former Eagle Food Centers; as a 67-year member of the Rock Island Rotary; as a former Trinity Medical Center board member; or as a lifelong member of St. George Church.
No matter how you know him, you are invited to help him celebrate his 90th. No gifts, please.
Be the first to know
Get local news delivered to your inbox!