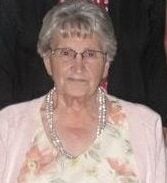 Alice VanDeVoorde will be celebrating her 90th birthday on September 20th. Alice Bollivar was born on September 20, l931, the daughter of Everett and Myrtle (Huyett) Bollivar, in Amboy. She married Gustaf VanDeVoorde on February 23, 1952 in Tampico. He passed away in 1998. They farmed in the Tampico and Erie areas. She was employed at the former Erie Drug and Village Variety until she retired.
She is the mother of three daughters, Kathryn (Bruce) Mix, Karen (Cedric) Reisenbigler, both of Erie, and Mary (Mark) Burgess of Fulton. She has seven grandchildren, Beth (Jeff) Smith, Aaron (Sherry) Mix, Clint Reisenbigler, Shauna (Justin) DeBlieck, Jeremy (Jennifer) Burgess, Nathan (Alicia) Burgess and Patrick Burgess. She also 13 great grandchildren.
There will be a celebration for her 90th birthday on October 3rd from 1-4 PM at the St. Ambrose Parish Hall in Erie.
Please follow state mask mandates.