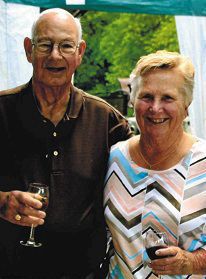 Paul and Joyce Aller are celebrating their 60th wedding anniversary with a family dinner.
You have free articles remaining.
Joyce Nelson united in marriage with Paul Aller on Nov. 29, 1959, at Cambridge Methodist Church. Their children are Paula (Richard) Garrett, Cape Coral, Fla., and Tom (Reneé) Aller, Bettendorf. The couple also enjoy four grandchildren, Andrea, Grant, Jenna and Natalie Aller.
Paul retired in 1998. He worked for the International Harvester Co. as a supervisor in accounting for 29 years and for the East Moline Correctional Center as a business administrator for 13 years. Joyce retired in 2001. She worked as an X-ray and mammography technician at the Trinity Breast Center for 42 years. The couple are members of Hope United Church of Christ in Moline.
Paul is the longest active life member still playing golf at the Oakwood Country Club. The couple dated at the club and have been active members since 1959.